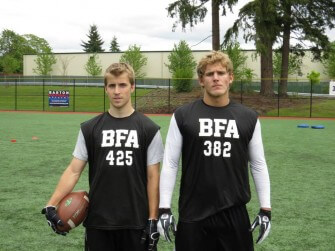 OVERALL CAMP MVP – Davasyia Hagger 6-4 1/2 200 Sr. WR Beaverton
Offensive MVP – Manu Rasmussen 6-0 175 Jr. RB Tigard
Defensive MVP – Cameron Schmitz 6-2 195 Jr. S West Linn
POSITIONAL MVP'S
QB – Reilly Hennessey – Jr. Camas WA ; Aidan Wilder – Jr. Central Catholic OR
RB – Nathan Beasley – Jr. Camas WA
WR – Quentin Bates – Jr. Reynolds
Line – Noah Bagley – Jr. West Linn
LB – Gianni Carbone – Jr. Skyview
DB – Aaron Washington – Jr. Central Catholic, Jorden Payne – Jr. Camas WA, James Schell-Buchanan – Jr. Roosevelt
UNDERCLASSMEN MVP's
Grant Nielsen LB Fr. Tualatin OR
Kevin Lahoda LB/RB Fr. West Albany OR
Keaton Flores WR Fr. Skyview WA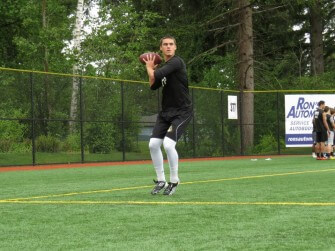 Quarterbacks
It was a phenomenal group of QB's that participated in Sunday's event in Vancouver. Oregon and Washington top ranked Junior's Aidan Wilder (Central Catholic) and Reilly Hennessey (Camas) headlined the talented cast of quarterbacks. Both athletes MVP'd the event and each project at the D1 level, with Hennessey already having an offer from Eastern Washington.
Camas will be the overwhelming favorite to win the class 4a state title, and Central will be a top ranked team and player for player the most talented team in the state. Wilder has been starting since his freshman season, and will have multiple offers before all is said and done.
Ryan Peerboom (Jr. RA Long) and Jess Krahn (Jr. Hockinson) both rank as two of our top 10 QB's for the 2014 class in the state of Washington. Peerboom will be a three year starter and looked as good as we have ever seen him. Krahn had just returned from the regional elite 11 and will lead the small school.
Four other SW Washington starting or projected starting QB's got in the mix and did well on the day. Hunter Huddleston (Jr. Woodland), Nic Manuel (Jr. Battle Bround), Zak Schueller (So. Kelso), and Colin Biggs (Jr. Mt View, WA) were all impressive. Huddleston has been a camp guru and looks like he is in the best shape of his life. Manuel will lead a Battle Ground team that continues to grow under Larry Peck, while Schueller and Biggs have both been training with Barton over the off season and have improved a great deal.
Oregon had four Junior QB's show up and do well on the day. Cody Lahoda (West Albany), Blake Knirk (Mt View, OR), Clayton Welsh (Sunset), and Grant Watts (Centennial). Lahoda is one of the more intriguing quarterback's in Oregon after throwing for 19 Tds and 7 Ints last season. He has looked outstanding over the last few months and will be key to the Bulldogs 5A state title run. Look for him to jump into our QB rankings when updated.
Knirk is a very talented overall athlete that is battling two other QB's in the Mt View system for the starting job. Welsh is an IVY league type athlete, and will battle talented 2nd team all league QB Willy Pflug for the starting job. Watts has become an NEI favorite getting out to all of our events and doing well both as a quarterback and as a receiver.
Tim Tawa (8th-West Linn), Devyn Rainbow (Fr. Bothell) , and Andrew Witt (Fr. Westview) highlighted some of the top young talent at the event. Tawa is one of the better incoming freshman in the state, and looked outstanding fundamentally. Rainbow continues to improve and has one of the better arms we have seen on a freshman. Witt is the leader of a Westview group that has struggled, but he is a player and was impressive on Sunday.
Other projected starting QB's in attendance were Lane Hull (So. Molalla), Jared Corbet (Jr. Toutle Lake), Travis McMillion (Jr. Onalaska), and Samuel Lavoie (So. Stadium). Hull will be back to lead an Indians team that saw a group of kids transfer. Corbet looked good, and McMillion will have to run the show for a group of Onalaska kids that we liked. Lavoie will hope to help a Stadium team that went 1-9 last season.
Sophomore Bennie Taylor (Hockinson) looked good and will wait his turn behind Krahn. Derek Ziegler (Newport) did well, and it was good to see Morgan Henley (Fr. Franklin) out representing the PIL. He has a bright future.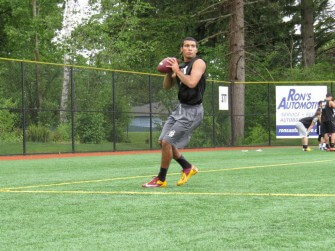 Runningbacks
Manu Rasmussen (Jr. Tigard) was the overall Offensive MVP on the day and looked as good as we have ever seen him. His ability to cut and hit gaps hard was very impressive. Manu is a D1 kid, that will have to go out and prove it. I expect him to go for 30+ Tds and 2000+ yards in 2013, and be a Conference Player of the Year Candidate on both sides of the ball.
Nathan Beasley (Jr. Camas) was the positional RB MVP for the day and returns as one of Washington's top athletes, after earning GSHL Co Offensive Player of the Year honors in 2012. Beasley is a gamer and has outstanding leg strength. He is also one of the state's best soccer players that reps a 4.0 GPA.
Louie Germain (Jr. West Linn) is another kid that had a big day, showing why he was the go to guy for West Linn out of the backfield last year. Germain isn't a big kid but can cut and accelerate with the best of them.
Derek Sunkle (Jr. Wilsonville) is a big athlete that could play some QB, but looks like more of a RB. His overall athleticism makes him a kid that the Wildcats need to get the ball to. Sunkle has some big shoes to fill with the departure of Tanner Shipley, Johnny Ragin, and Ryan Walsh.
Freshman Kevin Lahoda (West Albany) had a breakout performance, and was voted one of the MVP underclassmen on the day. He will be expected to start as a sophomore on a Bulldog team that will be a 5a state title contender. Lahoda comes from a football family and will be one of the better players in the state in the years to come.
Keifer Kastl (Onalaksa) was impressive and should help the small school be a contender.
Wide Receiver
A quality group of receivers made their presence known over the weekend. We spoke about Davasyia Hagger (Sr. Beaverton) who was the Overall Camp MVP on the day, breaking the all time standing broad jump record at (10-4). He is an under recruited 6-4 1/2 WR that could very well play D1 football if so he chooses. Hagger is also one of the state's top basketball players.
Quentin Bates (Jr. Reynolds) balled out and is a kid that we have been very impressed by. He has been a fixture at our elite events and on the camp and combine tour and was a positional MVP on the day. Bates will be a three year starter and ranked as one of the state's top WR's. We can't say enough about his work ethic.
Dylan White (Jr. Camas) is a legit D1 prospect on both sides of the ball. He is one of our top ranked athletes in the state of Washington and is also a D1 projected baseball kid. White battled through sickness on the day. Expect him to have multiple scholarship options both on the football and baseball field.
Zack Davis (Jr. Central Catholic) and Chase Cole (Jr. Central Catholic) are two of Oregon's top WR 's for 2014 class, and will be a huge part of a Central team that will be a state title contender. Davis was part of our NEI -South All Star team that we took to Vegas where he had a breakout performance. His dad was a scholarship DB for the Oregon St Beavers so the genes are there.
Cole is one of the speedier and more elusive slot receivers in the northwest, and is 80-90 % back from an injury that required surgery. Both kids can play and will be big for the Rams.
Quarterback turned WR/TE Grant Rubado (Jr. McMinnville) had a phenomenal day and was one of the biggest surprises of the camp. Parker Belan (Jr. Horizon Christian) doesn't have a ton of football experience, but is an outstanding overall athlete with size. Look for Belan to be added as an ATH on our rankings board.
Mitchell Powers (Jr. Jesuit) was another kid that a lot of people don't know about that looked good. He is a big target, but the Crusaders don't throw so it will be interesting.
Three other talented young SW Washington WR's that you will hear a lot about moving forward are Keaton Flores (Fr. Skyview), Jacob Bystry (So. Columbia River), and Nolan Biggs (Fr. Mt View, WA). The 6-4 freshman from Skyview will be one of the better wide outs in Washington in the coming seasons. He already has legit size, playing JV ball and scoring multiple Td's as a freshman. He was an underclassmen MVP on the day.
Bystry is a worker and a kid we like. He will be one of the leaders on a young, but talented Chieftains squad. Biggs and his brother will be go to guys in the Mt View WA system.
Line
Noah Bagley (Jr. West Linn) continues to impress and will come back one of Oregon's top lineman. He MVP'd his 2nd camp/combine of the season leaving no doubt who was the top kid in attendance. Bagley has dropped 45 pounds from a season ago and has really come into his own. Expect to see him be a force for the Lions up front this season.
Jesuit's Charlie Landgraf (Jr. Jesuit) and David Brugato (Jr. Jesuit) both showed up as two of the better lineman returning in the Metro. They will return after starting on the Crusaders D1 line from a year ago. Landgraf got the most time of any junior on the roster last season, and Brugato is the ultimate tough guy that you love to have on your side. He was injured on the day but will be back shortly.
Two of SW. Washington's top lineman did their thing in Garrett Lawler (Jr. Skyview) and Matt Matteo (Jr. Skyview). Lawler had an impressive junior season where he went somewhat under the radar. He will be one of the GSHL's best this season. Matteo will need to be big for the Storm, bringing back veteran leadership.
Brian Dahl (Jr. Gresham) had an outstanding day and will be one of the best players on the Gophers roster this season, while Brandon McCuin (Jr. Putnam) stepped up and will be influential for the Brad Lewman led Kingsmen.
Linebackers
Two of Washington's top LB's Gianni Carbone (Jr. Skyview) and Brad Hansen (Jr. Camas) had big days at the event. Carbone flys to the ball as quick as anybody and can play multiple spots. Gianni plays with his hair on fire and his junkyard dog mentality doesn't hurt. He MVP'd the day at the position.
The Camas D just got nastier with the transfer of 1st team all league and all area linebacker Brad Hansen from Mt View. Hansen doesn't have prototypical LB size, he's just really good. Expect him to jump up our rankings board as the Papermakers D will give up very few points on the year.
Freshman Grant Nielsen (Tualatin) is going to be one of the best overall LB's in the region in the coming years. He was an MVP underclassmen for the day and has unique instincts at the backer position. Nielsen doesn't know anything other then 110% . You can expect him to be one of the better sophomores in Oregon this season.
It was great to see talented youngsters Ocean Fuaga (Fr. Sherwood) and Tanner Pfaff (Fr. Camas) . Both play for class programs that will be state title favorites this upcoming season, and both are capable of contributing as sophomores.
Nick Thomas (Fr. Ridgefield) was another breakout player on the day. He played varsity ball as a freshman and looks to be one of the better young backers coming up around Washington.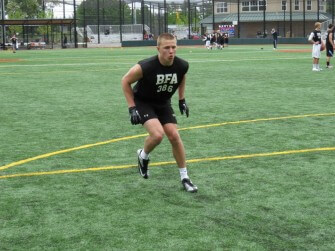 Defensive Backs
Sunday was one of the best DB groups we have ever had at our Barton Camp/Combines. Cameron Schmitz had one of the best days of any athlete this year, locking up anyone that stepped to him. Schmitz will be a big factor for West Linn on both sides of the ball. He will immediately jump up our rankings board, after being named the overall camp defensive MVP with many of the NW's top athletes in attendance.
OR top ranked CB Aaron Washington (Jr. Central Catholic) did his thing and showed why he is a legit D1 prospect. Washington is originally from Carolina and plays like it. He is a lock down corner and was a positional MVP for the day.
James Schell-Buchanan's (Jr. Roosevelt) stock continues to rise, as he is now being considered one of the top junior DB's in Oregon. He has been lights out this off season, and will return as a three year all league starter for a talented Roughriders team.
Jorden Payne (Camas) split Co MVP honors with Washington and Schell-Buchanan, and will return after a 2nd team all league season. Payne was a huge bright spot on the day and will be immediately added to our rankings board, as one of the better Jr. CB's in WA. The Papermakers are ridiculously talented.
Hutu Spencer (Reynolds) was the breakout performer on the day. He was injured last season, but will be a huge factor for a Reynolds team that has some players. Spencer more then looks the part and could be a big time player moving forward.
Andrue Jordan (So. Skyview) had a good day and should be a starter for the Storm, and both Andrew Finley (Union) and Erik Finley (Union) rounded out the talented SW Washington DB's.