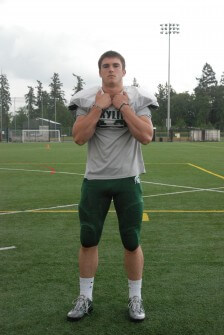 The football team at Sammamish (Wash.) Skyline High School rarely seems to rebuild, but rather reload. Year after year new standouts emerge that have come up through the Skyline Youth Football program learning "The Spartan Way". Sometimes they're players who are already household names locally – like a Max Browne, and other times they're players who come in without a lot of fanfare and go on to become some of the better players ever to wear green and silver.
It appears the Spartans may be grooming yet another one of those diamonds in the rough, in 2015 DE/TE Cameron Saffle.
Saffle is a player we've heard plenty about from former Spartan players like Browne, Nic Sblendorio and Matt Sinatro, and after catching a glimpse of him during an offseason conditioning workout last week, Saffle definitely passes the eye test and looks to be the real deal.
The 6-foot-3.5, 225-pounder earned Freshman Offensive Player of the Year honors while seeing time in three varsity games in 2011 at both WR and DE, and was poised to have a breakout sophomore season in 2012 until he was sidelined by an offseason injury.
"Last April, I tore my ACL during a lacrosse practice," Saffle tells NEI. "I was told I had nine long months of recovery in front of me, so I committed myself to the recovery process. I did PT three times a day, every day, for six months."
It's that level of commitment, along with support from his teammates, that saw him complete what doctors described as one of the top 5% of ACL recoveries and return in time to rotate in at defensive end in all four quarters of the 2012 state championship game.
"My football teammates supported me even when I was only able to wear a jersey without pads on the sidelines," Saffle says. "I am proud of the work I put in to make it back, and really grateful to my team for keeping me motivated."
The determination Saffle displayed as he worked his way back from injury is one of several reasons he was voted as a team captain for the Spartans in 2013, an honor he does not take lightly.
"Being voted captain for Skyline as a junior means a lot to me. Some of those voting were the outgoing captains – Max Browne, Peyton Pelluer and Nic Sblendorio. I am proud they recognized my dedication on the sidelines last year through my injury, and that my teammates feel I have the potential to be as strong leader as they were," he says.
Because of his election as a team captain, Saffle has put the lacrosse stick on the shelf for now. Despite his success in the sport, such as being selected to All-America team tryouts and imitations to prestigious club teams, it's a move he made with little hesitation. For him, it was all about putting the goals of the Skyline football team first.
There is always an unspoken expectation around programs like Skyline to compete for a state title, but Saffle says the Spartans remain focused on the process, not the result. "Our number one goal as a team is to work hard this offseason, so when its game time hard work will be second nature," Saffle says. "The goal of winning State is always in the back of our minds, but taking things day by day is what we're all about."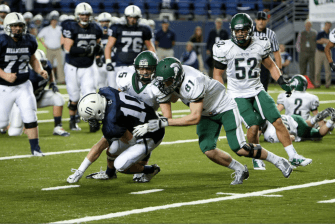 On a personal level, Saffle hopes to "break some records" and earn 1st Team All KingCo and All State honors on both sides of the ball – both goals he is every bit capable of reaching – but adds that his primary concern remains on the overall team. "As a captain my goal is to make sure the team is always focused and never gets too comfortable, because complacency is how teams become vulnerable," he says.
And Saffle is by no means comfortable or complacent. With post-injury maxes of 285-pounds on bench, 265-pounds on power clean, and a squat of 370-pounds as just a sophomore, it's evident that he backs up his words with his actions. He isn't just size and strength either – he's got speed too. When we were able see him during the conditioning workout last week he routinely finished sprints in first place, which is no surprise since he says he has been consistently clocked in the 4.6 range in the 40 yard dash.
Saffle comes from an athletic family. His dad was a basketball player at Pacific University, and both of his brothers are division 1 athletes – one players soccer at St. Louis and the other plays lacrosse at Air Force.
If things continue to progress the way they have this offseason, Cameron will have his own opportunities to play collegiately. "I am starting to receive quite a bit of literature and letters from colleges programs around the country," Saffle says.
"So far coaches from UCLA, WSU, UW, Colorado, BYU, Oregon State, Idaho and Cal have all come by campus this spring as well. It's a privilege to even been considered by these programs. But like my grandpa told me, 'it all happens on Friday nights', and that's how I intend to make my mark and earn a scholarship and continue to play the game I love," he adds.
Saffle will look to be a force on the Spartans' defense this fall, with DE being his primary position, but will also play tight end on the offensive side of the ball as well.
He carries a 3.3 GPA, and has spent time working at a homeless shelter in Seattle, which he says helps him keep things perspective. It's clear from talking with Saffle that despite his enormous potential, it's a priority for him to remain humble and grateful.
"I have been so blessed to have been able to play in two state championship games already – first as a freshman, and then last year coming off my ACL injury to play in the title game. I want to continue aspiring to help my class to be the first in Skyline history to achieve 4 state titles," he says.
At the end of day though, it's upholding the traditions and honor of the Spartan program that matter most to Cameron Saffle. "Skyline football, for me, is something that is almost indescribable. The core of our team is brotherhood and companionship. The chemistry of our team is overwhelming, and each day it gets stronger."