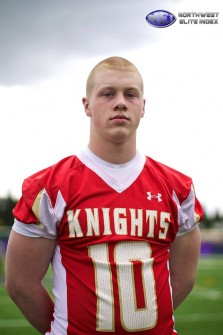 Friday was a day long overdue for Bellevue (Wash.) Newport RB/DB Conner Baumann. Baumann, who was one of the more dominant players in the region in 2012, picked up his first Division 1 scholarship offer from the Air Force Academy.
The 6-foot-1.5, 223-pound Baumann rushed for 1,338 yards and 14 TD's as a junior, and was a 1st Team All-KingCo and 2nd Team All-Area RB selection in 2012 – a season that saw him break Newport's single-season rushing record.
The offer came as a bit of a surprise to Baumann, who said Newport head coach Mike Miller told him that he needed to call Air Force assistant coach Mike Thiessen on Friday.
"I kinda thought he just wanted talk to catch up, and needed me to call him since they already used their call with me for the week," Baumann tells NEI. "But then he told me they had watched my film as a staff and that they'd like to see me as a Falcon and offer me a scholarship."
Baumann, who has the ability to play either offense or defense in college, said that Air Force offered him as a fullback in their option offense.
"When Coach Thiessen told me they were offering, I was excited and I am honored. I just didn't anticipate that my first offer would come from big program like this," Baumann says. "I have so much respect for that program and what they do for our country. I'm just ecstatic to get this first offer and have it be from a school like the Air Force Academy."
Conner says he and his family will visit Colorado Springs this summer to see the Academy, tour facilities, and meet the coaching staff.