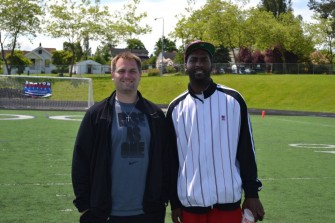 All of us are excited for the Pacific Northwest's largest 7-on-7 tournament, as almost every top athlete in the region will be in attendance. We will have an alumni group full of D1 athletes, with an additional six all star teams from Oregon and Washington.
You will also see multiple high school teams playing as one. We have never had an All-Star team win the tourney, with this being its 3rd year of existence. Skyview beat our NEI-North team, that competed in Las Vegas, for the title in 2012.
Check the rosters below. We will have our youth tournament going from 8am-10am with our HS Pool play starting just after that. Brackets will be released shortly as we will have a single elimination tournament after pool play. We have received confirmation from most media that they will be on sight so it should be an exciting day. There will still be minor changes and additions made to the rosters before Monday. Look forward to seeing you all.
Check the attached link as everyone can register when they arrive at the field… http://www.bartonfootball.com/home.php?layout=80880 .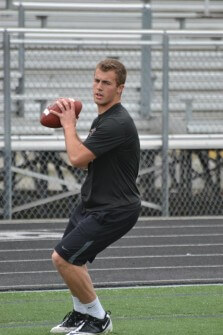 ROSTERS
Team South Sound
Derrick Becker, Capital HS
Asan Neil-Evergin, Timberline HS
Mitch Fettig, Olympia HS
Joel Dublanko, Aberdeen HS, OFFERS: Montana, Akron
Jakob Racimo, Capital HS
Gabe Gleizes, Tumwater HS
Brian Davidson, Capital HS
Zach Smith, Capital HS
Elijah Camacho, Capital HS
Jeff Winstead, Timberline HS
Seth Hyatt, Timberline HS
Stevie Cleveland, Timberline HS
KingCo Kings
Tavin Montgomery, Juanita HS
Ross Bowers, Bothell HS
Elijah Nichols, Skyline HS
Sam Mix, Skyline HS
Conner Baumann, Newport HS, OFFERS: Air Force
Drew Sample, Newport HS, OFFERS: UNLV, South Florida, Wyoming, Montana, Idaho, Northern Colorado, Air Force
Jackson Keimig, Bothell HS
Landyn Milburn, Juanita HS
Austin Cole, Juanita HS
Makiah Gilmer, Juanita HS
Daegen Andrews, Juanita HS
Blake Sypher, Skyline HS
Grant Evans, Skyline HS
Cole Ford, Bothell HS
Salvon Ahmed, Juanita HS (2017)
Cole Blackburn, Skyline HS
Kendrick Murphy, Juanita HS
NFL Talent
Casey Brink, Bainbridge HS
Dillon Sugg, Wenatchee HS
Budda Baker, Bellevue HS, OFFERS: USC, UCLA, Stanford, CAL, ASU, Arizona, Utah, Colorado, Oregon, OSU, UW, WSU, FSU, Notre Dame, Boise State, Purdue
Devante Downs, Mountlake Terrace HS, OFFERS: Arizona, ASU, Boise State, CAL, Colorado State, Oregon State, Stanford, Utah, Vandy, UW, WSU
Keenan Curran, Federal Way HS, OFFERS: Army, Air Force, SJSU, Idaho, Wyoming, Yale
Chico McClatcher, Federal Way HS, OFFERS: ASU, Boise State, Portland State, UCLA, Utah, UW
Adrian Shocks, Beamer HS
Dashay Ware, Beamer HS
Cy Sirmon, Wenatchee HS
Mike Padden, Lakeside School
Erik Rottsolk, Lakeside School
Cole Stephens, Lakeside School
Keynan Foster, Jackson HS
Trey Robinson, Jackson HS
Columbia River All Stars
Nic Manuel QB, Battle Ground HS
Hunter Huddleston, Woodland HS
Justus Ross, O'Dea HS
Jack Flor, O'Dea HS
Drew Griffin, Bellarmine Prep
Caleb Lyons, Lakes HS
Nick Selden, Bellarmine Prep
Johnny Weeks, Lakes HS
Elliot Wood, Interlake HS
Byron Jones, Interlake HS
Winfred Roberson, Garfield HS
Winston Matz, Battle Ground HS
Kyle Hendrix, Woodland HS
Chris Waters, Battle Ground HS
Pacific NW Alumni
Billy Green, Kings HS, SIGNED: BYU
Nic Sblendorio, Skyline HS, SIGNED: Eastern Washington
Sean Constantine, Bellevue HS, SIGNED: Washington
Kamana Adriano, Interlake HS
Mason Stone, Mountlake Terrace HS SIGNED: Idaho
Ryan Turman, Interlake HS, Walk-On: Washington St
Myles Jack, Bellevue HS, SIGNED: UCLA
Tere' Calloway, Seattle Prep, SIGNED: Nevada
Mike Tate, Federal Way HS, SIGNED: San Jose St
Kahlil Dawson, Graham-Kapowsin HS, SIGNED: Portland St
Tatum Taylor, O'Dea HS, SIGNED: Arizona State (Track)
Reuben Mwhela Bellevue HS, SIGNED: Idaho
Devasyia Hagger, Beaverton HS, Undecided
OREGON METRO ELITE
Aidan Wilder, Central Catholic HS
AJ Woodin, Southridge HS
Manu Rasmussen, Tigard HS
Jordan Morgan, Southridge HS, OFFERS: Arizona, Air Force, San Jose State, Portland State
Joey Alfieri, Jesuit HS, OFFERS: Stanford, CAL, Oregon St, UW, WSU, Arizona, ASU, Wisconsin, Nevada, Boston College, Yale, Harvard
Henry Mondeaux, Jesuit HS, OFFERS: Oregon, ASU, CAL, UW, WSU, Boise State, Nevada
AJ Hotchkins, Tigard HS, OFFERS: Idaho, Portland State
Dallin Leavitt, Central Catholic HS, SIGNED: BYU
Ryan Nall, Central Catholic HS, OFFERS: Portland State, Northern Colorado
Sam Bodine, Canby HS
Aaron Washington, Central Catholic HS
Cameron Scarlett, Central Catholic HS
Nick Underwood, Lake Oswego HS, OFFERS: Air Force
Logan Sackley, Southridge HS
Pepe Tanuvasa, Southridge HS
Daren Rodrigues, Tigard HS
Zack Davis, Central Catholic HS
Trent Werner, Jesuit HS
Chase Cole, Central Catholic HS
OREGON SOUTH
Joe Kuen, Sheldon HS
Troy Fowler QB, North Medford HS
Peyton Dole, Eagle Point HS
Yadie Dumnore, Sheldon HS
Tristen Holmes, North Medford HS
Nick Janakes, North Medford HS
Brody Haehlen, Clackamas HS
Daniel Sherrell, Clackamas HS
Chandler Schoonmaker, Tualatin HS
Isaiah Hall, Horizon Christian HS
Cameron Schmitz, West Linn HS
James Schell-Buchanan, Roosevelt HS
Edmund Polativio, North Medford HS
Josh Hansen, North Medford HS
Jacob Ridgeway, South Medford HS
High School Teams
Gig Harbor
Reece Carlson
Cody Alcott
Jordan Houchin
Adrian Valona
Noah Samsen
Levi Alton
Connor Stephens
Evan White
Hunter Talen
Davis Alexander
Matthew Garries
Michael Garries
Matt Smith
Santana Johnson
Brett Villa
Danny Youngren
Connor Lindmark
Dylan Lindmark
Graham-Kapowsin
Curtis Russell
Dylan Campbell
Trevor Asbjornsen
Connor McLeod
Jordy Sumerlin
Teague James
Donald Walkinshaw
Scott Moss
Scotty King
Jake Rosario
Nathan Affonso
Uri Nnoli
Austin Ewell
Foster
11-Patrick Saa OLB/TE
10-Jeremiah Jacobson R/DB
10-Zane Jacobson QB/DB
9-Deangelo Brown WR/DB
12-Carlos Brambilla OLB
11-Aries Fernandez WR/DB
12-Jemare Wells WR/DB
10-Onopene Lemaota WR/DB
12-Maleko Lemaota OLB/TE
12-Justice Muna OLB/WR
10-Timmy Nguyen RB/LB
11-Zane Galola C
10-Alex Taylor WR/DB
10-Devin Brown RB/DB
12-David Patton TE/OLB
12-Randy Tippins QB/OLB
11-Patrick Straight WR/DB
12-Charlee Simpson WR/DB
Other Schools Participating
Kamiak
Kings
Cedar Park Christian