Click for Jalen Hicks Highlights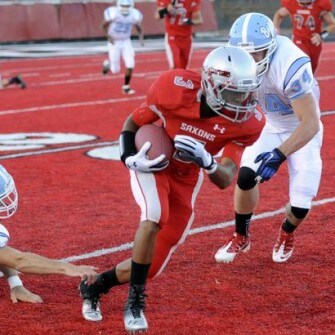 Spokane (Wash.) Ferris should be a state title contender in 2013, mark it down now. The Saxons, who narrowly missed the state tournament after going 7-3 last year, and 6-3 in Greater Spokane League play, return one of the more experienced teams in the GSL.
One player who will be a key factor if Ferris is going to make a run in 4A will be class of 2015 WR/DB/ATH Jalen Hicks.
During Hicks' sophomore campaign, the 5-foot-8, 150-pounder showed speed and athleticism and established himself as one of the most explosive players in the area while earning All GSL honorable mention honors.
Hicks, who is a three-sport varsity athlete, had 405 yards and 4TD's on 19 receptions – good enough for a whopping 21.3 yards per catch in 2012. He also scored a TD defensively after a 99-yard interception return.
To give you an idea of just how athletic Hicks is, his top track and field marks this season were 11.13 seconds in the 100m dash, 23.34 seconds in the 200m, 22'6″ in the long jump, and 45'1.5″ in the triple jump – all of which are just eye-popping numbers for a 2015 athlete. He was also a member of Ferris' 4×100 team.
Despite the fact that many think Ferris will be a force when the state playoffs roll around, the Saxons are remaining focused on the task at hand. "Our goal is to just take things one game at a time, and strive to be the best team in the GSL, hopefully number 1, and to make the state playoffs," Hicks tells NEI. "We'll be putting in a lot of work this summer to achieve our team goals and hopefully it will pay off."
Ferris, under widely-respected head coach Jim Sharkey (129-54), also boasts several other key players who will be major components to the team's success this season.
Senior quarterback Christian Olson is an experienced signal-caller and one of the top QB's in the GSL. Senior WR/S Cole Karstetter is a two-time All-League player on defense, and is equally impactful as a slot reciever. Along with Hicks and Karstetter, the Saxon's secondary will also feature senior Isaiah Troutt and Sam Bloom.
On a personal level, Hicks says he has been working hard at being a team leader both on and off the field, and hopes to make an impact as one of the leading receivers in the GSL in both catches and yards.
"I plan on achieving these goals by hard work and dedication in the weight room, constantly working at getting better on the field, and listening to our great coaching staff at Ferris," Hicks says.
We at NEI couldn't be more excited to come to Spokane on June 2 to cover the Barton Football Academy Combine at Joe Albi Stadium to see up-close just how much Jalen Hicks has improved this offseason, along with other top players in the region!