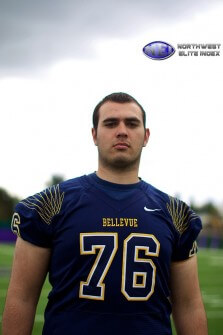 It seems like there hasn't been many days that have gone by this spring where a player from Bellevue (Wash.) wasn't picking up a scholarship offer.
One Wolverine player who has been racking up the offers as of late is OL Morgan Richey.
Back at the end of March, The University of Idaho got the ball rolling as the first school to offer the 6-foot-5, 280-pounder a scholarship. "It was great getting my first offer from Idaho. I can't wait to try and get to Moscow to meet the staff and see the campus," Richey tells NEI. "One of my teammates from last season, Rueben Mwehla, signed there and I have heard nothing but good things from him about Idaho."
Shortly after picking up the Idaho offer, Richey received offers number two and three over the span of a few weeks, from two Big Sky programs North Dakota and Northern Colorado.
"I was excited to get offers from both of those schools," Richey says. "I am hoping to fit campus visits to both of them in my summer plans."
Immediately following the offer from UNC, Richey landed an offer from Colorado State, a program he has some familiarity with. "I know a little about the program and how Coach McElwain is turning things around, so I am excited they think I can be a part of that," Richey says. "Fort Collins is a great area – I have been to Colorado a few times and just love the state. I will definitely get out there for a visit during summer. it is the kind of place i could enjoy even without football, which is important."
Last week he picked up his 5th offer from Nevada, another Mountain West school. "I am pretty familiar with the program and the success they've had the last few seasons. I am very aware of what they do offensively with the pistol and running the ball, and that's something I am really a fan of. It's definitely another school I plan to trying to get out to see this summer," he says.
And just last night, Richey picked up yet another offer from Montana.
His ability to play multiple spots on the line is something that makes him a very attractive prospect to colleges. He says the schools recruiting him have wanted him at guard, with the possibility of playing tackle depending on team needs.
Richey has also been active in visiting several programs who are recruiting him, but have yet to offer. This spring he took unofficial visits to Stanford and Oregon, as well as taking in Oregon State's Junior Day and UW's Spring Game.
Morgan is currently NEI's No. 2 ranked OL for the 2014 class, and is a player whose stock has risen steadily during the offseason. It would not be surprising at all to see him land several more offers before the season arrives.