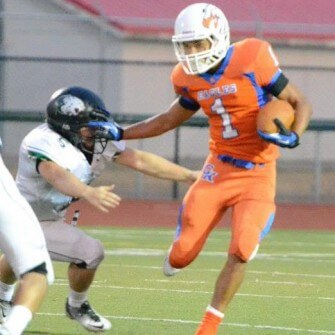 It was a telling week for teams at the Battle In Seattle 7-on-7 tournament, and specifically the Graham Kapowsin Eagles. The kids out of Washington should be one of the better teams at the 4A level and proved it this weekend. Junior WR Connor Mcleod (6-3 190 WR/S) went off Memorial Day, and showed why he was an all league kid last year. He has the size and the ability to outleap and out maneuver DB's, and should be one of the more talented wide outs in the Northwest.
GK will feature one of the better senior classes in recent history. Teague James (5-10 185 Jr. RB) returns after a monster junior season that saw him earn 1st team all league honors. He comes back ranked one of the state's top 10 backs, while Dylan Campbell (6-1 170 Jr. ATH/DB) will move to more of a slot position after an all league sophomore year. Donald Walkinshaw (6-4 220 So. TE) is another very talented sophomore that will play a key role next season. He has size and comes from a professional football background so his upside is through the roof.
The skill kids are everywhere at GK as Curtis Russell (5-11 160 Jr. DB/ATH) and Jordy Sumerlin (5-9 170 Jr. DB) both showed up at our Issaquah camp/combine a few weeks back and did very well. Russell ran the fastest 40 yard dash time among 100+ athletes at 4.37, giving him the fastest time at any event this year. He was an all league kid last season, but missed half the year with an injury.
Sumerlin was one of the top DB's in attendance and Uri Nnoli (5-9 170 Jr. DB) looked the part as well, having a very good tournament. Referencing the upcoming season the speedy Russell says, "We have just about all of our skill players returning both offensively & defensively and we carry a lot of speed across the board". He continued, "We have the chemistry, drive, and intensity to be a great team and I think we will definitely be a threat". You can also expect Scott Moss (5-11 190 LB-FB) to be a factor on both sides of the ball.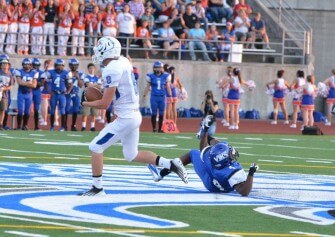 Graham Kaposwin went (8-2) in 2012, led by NEI favorite and long time Barton Football Academy member Kahlil Dawson, who signed with Portland St. Their only conference loss was to a very talented Federal Way team, before being up ended by a tough Union squad in the state playoffs 39-22.
QB Trevor Asbjornsen (6-4-190 Jr.) is a kid that has trained with us this off season and looked good. He has legit size and had a very impressive 'Battle in Seattle Tournament'. He will replace Brady Austin who was a 2nd team all league quarterback a year ago.
Every good team needs a solid up front cast and GK has a young but talented line. Incoming freshman Foster Farrel (6-6 310) will be a kid that we will hear a lot about in the coming years. He could contribute next season.
Two other soon to be sophomores should also play a role in Tyler Morris (5-11 225 Fr. LG/T) and Braxton Bennett (5-11-245 Fr. DE). Add in two good size athletes in Matt Underwood (6-3 285 DT/T) and Luke Asbjornsen (6-4 230 T), with Keanu Holmes (5-10 250 DE) coming off the end and the Eagles should be good to go.
The line will still be a big question mark as the experience isn't there, but GK has outstanding coaching and will be fine. Eric Kurle and his guys should be ranked one of the top 10 teams in the state of Washington at the 4A level, and have a lot to be excited about moving forward.
The Eagles made a semi final run at our Memorial Day 16 team tournament, and were the most impressive individual HS team in attendance. We have always been big fans of Graham Kapowsin and we look forward following their progress in the years to come.