D1-AA national power Montana is a consistent front runner for most Pacific NW recruits and the Grizzlies did a good job offering two more yesterday.
AJ Hotchkins 6-0 230 Jr. FB/LB Tigard, OR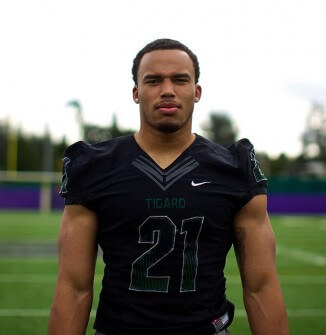 The region's most notorious hitter picked up his 3rd offer from Montana Tuesday and the list of schools interested seems to only be growing. AJ projects as a high level D1 full back with most of his time spent on defense at the D end position.
He's a kid that will either play the backer position or be a FB at the next level. Referencing the offer AJ says, "I think its a great opportunity and I like that they are a top D1-AA school in the country." He continued, "Coach called to let me know that I had a scholarship and that they looked forward to recruiting me.. They were jacked about my film and would like me to visit campus."
Hotchkins had already been offered by Idaho and Portland State and is on the bubble with a host of other schools. He has an outstanding work ethic, and has been training with us for the last year on a consistent basis. AJ was part of our Team Oregon squad that beat Team Alaska in the winter showcase 40-29 where he was named the defensive MVP.
He's a great kid and will lead a top 5 ranked Tigard team into 2013. We will bring you updates as they happen.
Shane Bowman 6-4 250 Jr. DE Bellevue, WA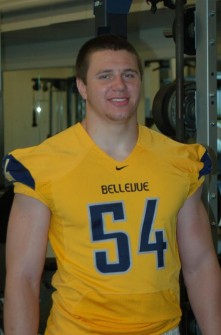 The region's top D end and #2 overall D lineman continued his offer tear and is far from done. The Grizzlies made a good move offering the big man who comes off the edge as quick as any kid in the northwest.
The Wolverines have one of the top D line tandems in the country in Bowman and Marcus Griffin (6-3 290 Jr.), who just MVP'd our most recent Camp/Combine running a 4.92 40 yard dash.
Referencing the offer Shane says, "I'm just grateful and excited and will be working and playing with my heart to achieve my goals". The Wolverines win state title after state title, but its the character of the kids that sticks out when looking at the Bellevue athletes. Head coach Butch Goncharoff deserves a great deal of credit, instilling a mind set within the football community that has resonated.
Expect Shane to pick up some mid major and Pac 12 type offers in the near future, as he has the ideal frame and skill set to play at the highest level. Bowman's younger brother Ryan will be a kid that could follow in his brother's foot steps, as they are both class on and off the field.