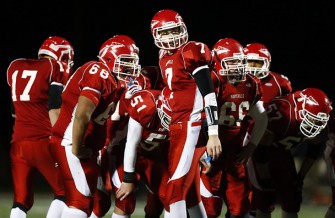 One of the top quarterback prospects in the state of Washington this coming season promises to be Marysville (Wa.) Pilchuck QB Jake Luton. Because of his strong arm, solid athleticism and great size, the senior-to-be has seen recruiting pick up over the past few weeks with several schools stopping by his school to see him in person…
Measuring in at a legit 6'6″ and weighing right around 210 pounds, Luton definitely has the frame to add quite a bit of size and with his strong arm and the ability to be a running threat he's a prospect that schools are starting to come after.
"It's been really fun over the past couple of weeks because schools like Washington, Washington State, Boise State, Idaho and UNLV have all been by and talking to me. I've been hearing from Portland State, San Jose State, Colorado, Wyoming and Montana too," Luton told Northwest Elite Index. "My teammate, Austin Joyner, and I are going down to Portland State for an unofficial visit here really soon, so that's sorta where things stand right now."
As a junior in 2012, Luton was solid, completing 63% of his passes for 1,350 yards through the air while throwing for 14 touchdowns and only six interceptions and he used his athleticism and toughness to rack up 450 yards and 12 rushing touchdowns in the Tomahawks' run-heavy offense.
"This offseason I've really been working a lot on my footwork and mechanics and also on getting stronger," Luton said. "We've been in the weight room a lot and I've put on a lot of muscle and we're also throwing a lot too."
As far as the camp circuit is concerned, Luton plans to take in camps at Washington, Washington State, Boise State, Portland State and possibly Arizona State as well.
"Right now I'm open to everyone and I want to get out and compete at the camps and also to show coaches what I can do," Luton said. "We don't throw it a lot because we have a really good back in Austin (Joyner) so I need to get out and show coaches what I can do, so that's what I'm planning to do."
There are times when prospects have to wait quite a while for that first offer to roll in, but Luton has the size, the arm, the athleticism and the leadership skills to warrant.