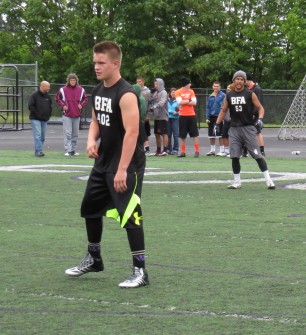 The Wenatchee (Wash.) High School football team has the talent to make some noise this season – the Panthers have speed and/or size at virtually every position. But more importantly, it's a team that has leadership on both sides of the ball.
After going 6-4 last season, 6-3 in league play, the Panthers are a favorite to win the Big Nine in 2013 and are hoping that balance of talent and leadership will get them there.
Offensively, 2014 quarterback Dillon Sugg, a multi-sport standout, returns and has a newfound commitment to football. As a junior, Sugg threw for 13 touchdowns and 1,027 yards in the Panthers' run oriented attack. He was a team captain and conference player of the year in basketball, and played varsity baseball and both a freshman and sophomore. But this offseason Sugg elected to give up baseball to focus on football.
"I didn't play baseball this year so I focus on training and getting in the weight room to put on size for football and basketball," Sugg tells NEI. "I actually ended up joining track in the spring to stay active and be able to have more flexibility in my schedule to lift and to do football stuff"
That freed up schedule allowed the 6-foot-5, 215-pound Sugg to take an active role in organizing team activities.
"Even though our coaches can't be involved, I started getting the guys out a couple of times a week to run routes and play 7 on 7. It is always hard to get everyone when you have multi-sport athletes, but we had a good core every time we were out there," Sugg says. "My mom is big on having the guys over to our house for meals or movies and whatnot, which is great for team chemistry."
Sugg will be surrounded with plenty of talent on the offensive side of the ball. Running back Isaiah Brandt-Sims is one of the fastest players in the state, and already holds double-digit scholarship offers. The Panthers also boast a solid group of WR's they'll be counting on to help balance the offense in Christian Brandt-Sims and Brock Stone – who Sugg says will be two of his main targets, Spencer Smith and Blake Aguilar. Smith and Aguilar have primarily been used at RB, but will see lots of time at wideout this fall.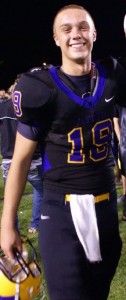 On the defensive side of the ball, the Panthers have another strong leader in 2015 MLB Cy Sirmon.
The 6-foot-2, 215-pound Sirmon, like Sugg, has been focused on building team unity and is a part of a core group of players who have been together since youth football.
"The team's chemistry is phenomenal," Sirmon says. "We have had the chance to all grow up and play with each other all our lives, and a full year of varsity experience together under our belts is huge. It's like playing with my brothers. We know what each other is thinking, we know how to pick each other up. I would go to war with these guys and would not trade them for anybody."
Sirmon will be the man in the middle on a very talented defense that features Markus Stoll – a freak athlete at the safety position, speedy cornerback Chase Resch, and massive defensive lineman Jakob Stoll.
The Panthers are aware that this year's team has the ability to do something special, and they are approaching the season with the right mindset.
"We understand that to be successful we need to perform to the best of our ability in every game regardless of our opponent," Sirmon says. "We know the deeper you get into the State Tournament, the tougher the opponents get, and we need to push ourselves to play at that level each week. We will achieve this by always competing with a relentless tempo, staying in shape to maintain that tempo, and training the brain to preform under pressure."
Like a true QB, Sugg puts things a little more bluntly, "Our team goal this season is to win. We are working to be undefeated and finish first in league. We want to end our season in the Tacoma Dome."
With leaders like Sugg and Sirmon on each side of the ball, I wouldn't count the Wenatchee Panthers out of doing just that.