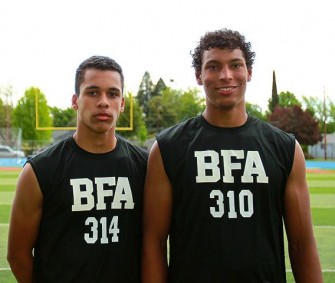 Anyone familiar with Southern Oregon Football is going to know the last name Holmes. Tyrone (Holmes) is currently at the University of Montana, out of Eagle Point, and is a potential D1aa All American in the coming years.
Now the attention has been turned to Austin (6-4 245 Jr. OL/DL) and Tristen Holmes (6-1 170 So. ATH) out of EP and N.Medford, both of whom are standout student athletes. Academics within the family has always taken first priority, as you would be hard pressed to find a more well rounded group.
Tyrone was 3.9+ student taking AP classes and both Austin and Tristen are 4.0 kids. The oldest Holmes had multiple offers, but was under recruited and is a Pac 12 type athlete. He was the Co- Defensive POY in the Midwestern Conference as a senior, earning 1st team all state honors. His Grizzlies profile page says, "He has the ability and work ethic to be one of Montana's best ever at the position, and will start at one of the two D end spots".
We have had a chance to see both younger athletes over the last few months and they have looked outstanding. Each is currently ranked among the top 10 athletes at their position within the state of Oregon for there class.
We have seen them at our elite events up in Portland, on the camp and combine tour in Salem and Medford, and most recently at the Battle in Seattle 7 on 7 tournament where Tristen locked kids up. There work ethic on and off the field speaks for itself, and we couldn't be bigger advocates of the family.
Referencing the up coming season Austin says, " I would like to earn 1st team all conference honors on both offense and defense, and as a team I would like us to make it past the 2nd round of the playoffs". Eagle Point has been a pretty consistent .500 team over the last few years and they would like to change that.
Talking about the family dynamic he says, "I think our hard work and willingness to make sacrifices is what has made us successful thus far… The way we have been raised has played a huge role in our lives… We have grown up with the expectation that we would get good grades and try our best on and off the field."
Tristen reiterated some of the same thoughts, "We have always been pretty close, our dad's are brothers and our mom's are cousins". He continued, "Our parents have always been supportive, driving us to get better.. My parents are tough checking grades almost daily and putting that before anything else."
The youngest Holmes is an outstanding basketball player and is climbing the charts quickly with his overall athleticism. He averaged 12 points, 4 rebounds, and 4 assists playing varsity basketball as a sophomore and could technically be a freshman. His size 14 shoe speaks to how big he still might get, as he is one of the fastest rising recruits in the region.
Austin was an all league kid on both sides of the ball last year, but has some loftier goals this season. He says, "I see myself playing defense at the next level, just because of my body type…Although I would be just as happy on the offensive side of the ball if that's where the team needed me."
Regardless of where these two end up they will be successful in life. Its inspiring to see a family as down to earth and focused as these kids are. The Eagle Point athletes are a group that we really like, and North Medford looks to be one of the fastest rising teams in the Northwest.
All in and all we see some very good things happening down in Southern Oregon. We will keep you updated as Austin and Tristen's stock continues to rise into 2013.