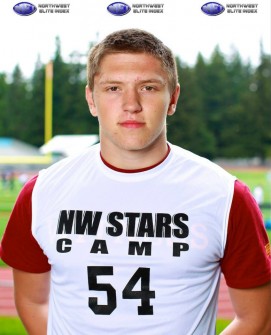 After going 4-6 overall in 2012 and 4-3 in Cascade Conference play, the Sultan (Wash.) Turks figure to be in the mix for one of the league's playoff spots in 2013.
One player who should be a major contributor as Sultan vies to make the State Tournament in the fall is talented pass rusher Skyler Funderburk.
Funderburk is a player who is a total "camp junkie". Since he started playing football in the 7th grade he has attended everything from Seahawks camps to Barton Football Academy trainings in an effort to get better and maximize his potential, and he is starting to see his hard work pay off.
Recently, at the Barton combine in Bellevue, the 6-foot-2, 198-pound Funderburk was a standout performer, winning one-on-one battles with some of the top offensive lineman in the state of Washington.
Funderburk's emergence isn't a total surprise, however. He has seen playing time on the varsity level at Sultan since his freshman year.
"My freshman year I was a two-way starter on JV and was brought up to varsity to play special teams," Funderburk tells NEI. "I have been a full time varsity player since my sophomore year like many the players in my class. That's what makes this year so exciting, we have grown together taking our lumps against bigger teams for two years, and now this is our year to show how that has developed us."
Skyler's experience as a varsity player has also helped him come into his own as a team leader during his career, and earn the title of team captain for his senior campaign.
"This fall I am officially a captain of the varsity squad along with my teammates Taylor Comfort and Antonio Rivas," Funderburk says. "I have taken that role seriously and do everything I can to portray myself as a positive role model to my team."
One way Skyler and his fellow captains have embraced their leadership roles is organizing throwing sessions on weekends over the last two months to help the team prepare for the upcoming season. The numbers of participants vary from week to week, but Funderburk says there have been weeks with 30+ players who showed up, which is even more impressive when you remember that Sultan, like many small schools, doesn't have the large rosters that 3A and 4A programs do.
Funderburk's personal goals for his senior season parallel what Sultan has been working towards as an overall program: to earn respect. "Often times, especially when I am at a camp, other players have never heard of Sultan. We want want to change that," Funderburk says. "I would say our team this year has the strongest bond and desire to change the schools reputation than any of my past teams as a Turk player."
"My personal goal this upcoming season is to live up to the 2013 motto we selected: "Start the Ruckus" and I plan to own up to it and be fierce on the field," he adds.
Off the field Skyler is very active in volunteer work and community service. He recently assisted in a track and field program on weekends helping coach youth. During summers he started his own volunteer landscaping service at a senior citizen community. "I decided to do this after the loss of my Grandmother who always asked for help in taking care of her yard. I thoroughly enjoy the summer days spending time and helping folks who simply can't do this for themselves any longer – and I have to admit it keeps me in shape for football," he says.
And that is what describes Funderburk in a nutshell, everything he does has a calculated purpose to either better himself as a player, or his team at Sultan.