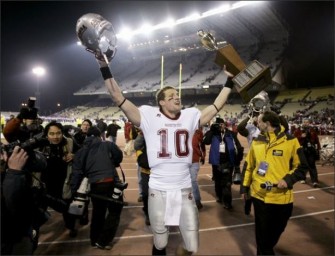 The Barton Football Academy has announced the hiring of Alex Brink as Head QB Coach.
Alex is a homegrown product of the Northwest, having prepped at Sheldon HS in Eugene, OR and into college where he was a record-setting QB at Washington State.
After stints in the NFL with Houston Texans and CFL with the Winnipeg Blue Bombers and Toronto Argonauts, he now joins BFA full time to instruct QB's in Washington and Oregon alongside BFA owner, Taylor Barton.
Alex Brink brings with him a wealth of credibility and knowledge, as well as a passion for kids in the Northwest. "I am a huge proponent of Northwest football talent. I believe it is as good as anywhere in the country but severely overlooked," Brink tells NEI. "My goal is to help develop that talent to a point that people can't help but take notice of all the great players coming from Oregon and Washington."
Brink is a player who also came up through the academy himself, and is excited about the about the opportunity to join the academy staff in a full time role. "I'm excited to give back to BFA as a coach because it was so instrumental in my development as a young player. I know the value of quality skill instruction at a young age and that is what Barton Football provides for kids in the Northwest."
Alex finished his career at Washington State holding the school career records in passing yards, touchdowns, attempts, completions and total offense and is the only Cougar QB to win three Apple Cups.
The addition of Brink to the BFA staff is described as a game-changing move by owner Taylor Barton. "Alex is the best QB coach we've ever had in the academy. The credibility he brings from his playing experience is invaluable," Barton says. "Along with being a great technical coach when it comes to mechanics, Alex also has a way of relating to the kids he works with to get the absolute most out of them."
"Either Alex or myself will always be in Oregon and the other will always be in Washington, so we're always available for workouts no matter where you live," Barton adds. "Our academy just went to another level with the addition of Alex Brink, and the kids of the Northwest are going to benefit tremendously."