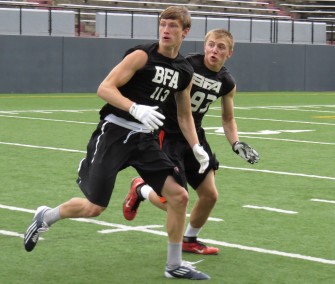 OVERALL CAMP MVP
Roy Hyatt, Mount Spokane 2015 RB/S
BREAKOUT PERFORMER
Clinton Jeney, Reardon 2015 RB
UNDERCLASSMEN MVP
Izmael Mercado, Pasco 2017 ATH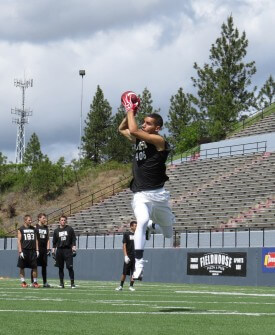 WR/DB/ATH's
MVPs
Phillip Moore, Eastmont WR
Jonas Dahl, Silverton WR
Jalen Hicks, Ferris ATH
It was great to see some of WA's top receivers last weekend in Spokane as it was definitely the strongest positional group in attendance. Shadle Park brought out a couple of the state's best in Nick Kiourkas (2014) and Skyler Kelley (2014), who are both ranked among the state's best when referencing the 2014 WR's.
Kelley is a multi sport threat (basketball) and Kiourkas projects at the D1 level with continued progression. Ferris top talent Jalen Hicks (2015) attended and is a kid that we will hear a lot more about on both sides of the football. They will be a top 10 team coming into the season.
Phillip Moore of Eastmont (2015) had his second very impressive performance at one of our camp/ combines after transferring this past season. He comes from a football family with professional genes. Zillah's Brady Widner (2014) was an all state kid at three different positions and will be one of the top athletes returning at the 1A level.
Dave Ungerer III out of Pullman HS in Spokane showed up and did very well for the 2nd week in a row. He is one of the more shiftier slot receivers in the region. Jonas Dahl (2014) of Silverton caught a flight from Portland, and ended up being the best receiver of the day according to elite WR coach Mike Bush.
Mead's Garrett Norris (2014, ATH/DB) is another two way threat that will contribute on both sides of the ball. He will be big for a Panthers team that loses high profile D1 athletes such as Danny Mattingly and Langston Ward.
Brendan O'Brien (2015) of West Linn OR had a very good day and will be a contributor for the Lions, while super talented Ethan Snow (2016) of Hermiston is a bright spot for a Bulldogs program that will be ranked in the top 10 at the 5A level. He had 9 Tds for a frosh team that went 6-1 and returns a bunch of Varsity starters.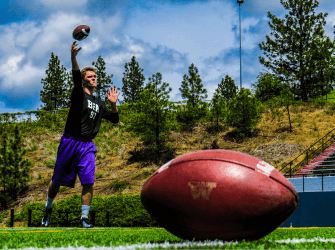 Quarterback
MVP
Dillon Sugg, Wenatchee
Dillon Sugg (2014) of Wenatchee is a kid that we have gotten to know well, as he is ranked one of the top 2014 QB's in Washington. He has been training with Taylor Barton for the last few years and will be spending his 3rd year as the starter for the Panthers.
Matt Wetzel (2014) of Mead will be called upon to lead this season as he should be one of the better players in the GSL. He had a good day and has a big upside. Will Jack (2014) of Woodinville will return as the starter for the Falcons, and has done well at multiple camps and combines that we have hosted.
Jake Delozier (2015) is a good sized kid and has been improving a great deal training with Barton. He will be another talented athlete in West Linn's talented up and coming classes.
Last but definitely not least was Canadian QB Bailey Wasdal out (2014, Calgary) who made the 8 hour trip. He was one of the better QB's up North last season and is a kid that we look forward to following in 2013.
RB/LB/S/ATH
MVP
Kurt Calhoun, Zillah
Zillah RB/OLB Kurt Calhoun (2014) was one of the top performers of the day and showed why he will be a 1a Player of the Year Candidate for the top ranked team. Calhoun has legit size and strength and could play a high level of football at the next level.
Roy Hyatt (2015, RB/S) started at strong safety as a sophomore for a Mount Spokane team that went 3-6 on the year. He was maybe the most impressive kid on the day and earned overall camp MVP honors. Hyatt has good size and looked the part. Expect him to be added to our rankings board in the near future.
Clinton Jenney (2015) out of 2B Reardon was the breakout performer of the day, running the fastest 40 time of any kid in attendance (4.50). He will be a threat to take it to the house at any time at that level.
Chandler Schoonmaker (2014, RB/SS) of Tualatin OR, will be one of the better players in the Pacific Conference and is a kid that we can't say enough good things about. He was everywhere defensively on the day.
Izmael Mercado (2017, Pasco) is one of the top incoming freshman athletes state wide, and locked up some of the top junior receivers in Washington over the weekend. He earned Underclassmen MVP honors with his impressive play.
Ross Martin (2014, LB) of Wenatchee will be another key piece to the puzzle for a Panther team that should be a conference favorite in 2013. He has a good frame for a backer and can move.
Romello Hambrick (2014, RB) of North Central will have to help replace all-everything athlete Jake Hoffman (Eastern Washington). Hambrick did well on the day and should be a kid we hear about moving forward.