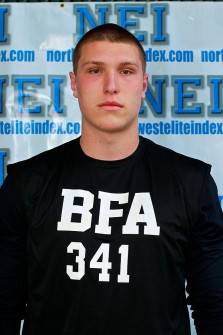 There may not be a hotter prospect in the Pacific Northwest, and certainly not in the state of Washington than Bellevue (Wash.) Newport TE Drew Sample.
Since we last talked with the 6-foot-5, 232-pound Sample in mid May, he has picked up another SIX scholarship offers – adding to the ones he holds from adding to the ones he holds from Idaho, Montana, Northern Colorado, Wyoming and South Florida, bringing his total to 11 so far.
We recently caught up with Drew to talk to him about each of the schools that he has added offers from and find out a little about what campuses he plans to try and see this summer.
UNLV – "The UNLV offer was a nice surprise, because I hadn't been in much contact with them," Sample tells NEI. "I have been to Las Vegas before, and seen the school but have never actually been to the campus."
"They said they really like what the see in my athleticism and think i could be used all over the field as a tight end that moves a lot," he adds.
Air Force – "I was extremely honored by this offer. They told me they really like my physicality, and how I would fit in their offense," Sample says. "I love the prestige and tradition of the Academy, and the aggressive style of football they play. Air Force is a unique place because you get a top notch education, and get to serve your country, which is so special."
"Air Force offered my good friend and teammate Conner Baumann too, which makes it a very appealing program," he says.
Montana State – "The last few schools that have offered me have been from different parts of the country, so it was really nice to get an offer from another Northwest program," Sample says. "They have been having winning records for as long as I can remember, and have been especially good the last couple of seasons."
Northern Arizona – "NAU is a really intriguing offer. The coaches I talked to really want to get me out to the campus and the way the staff described Flagstaff appealed to me – they said it's a lot different then the rest of Arizona, Sample says. "They like my athleticism and what I bring to the table and said they would use me any way they can all over the field."
Nevada – "Nevada is another program I hadn't talked to much, so the offer was kind of out of nowhere,"Sample says. "I am pretty familiar with the program thought because our QB last year Isaac Dotson went pretty deep into the recruiting process with them."
"I know that they like to the use their TE's a lot, and they're in a program that is in a big conference and has had a lot of success on the field."
UTEP – "My latest offer was UTEP, which offered earlier today," Sample says. "They had come by during the spring recruiting period and we had been in contact. One of the coaches messaged me on Facebook and asked me to give them a call. When I called they told me they were offering."
"They said they see me as a big playmaker who they will be able to use to get the ball to downfield."
Sample has no concrete plans for the summer yet. As of now, he doesn't plan on getting to any camps, but does want to use the summertime to get out and visit some campus he has been hearing from, but has yet to be offered by – particularly Boise State, Colorado and Arizona State.