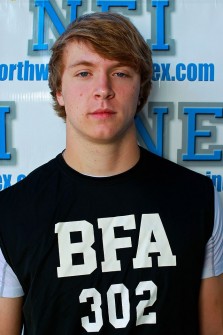 As we look at some of the top under the radar athletes in the state of Oregon, one kid that continues to impress is Peyton Dole (6-3 215 Jr.) out of Eagle Point. He has been a fixture at our elite events and on the camp and combine tour, proving himself on multiple fronts.
He has legit D1 size and will be a three year starter and all league athlete by the end of 2013. He was hurt most of his junior year , and wasn't cleared for contact until this past January. What he has done since then speaks for itself.
Peyton recently showed up at our Bellevue camp/combine and was one of the most talented backers in attendance, running a 4.69 (40 yard dash) with a 9-10″ broad jump. He followed up the event with a solid performance, as part of the Oregon South All Star team, at our Battle in Seattle 7 on 7 tournament.
Southern Oregon isn't exactly a hot bed for recruiting so kids can sometimes get lost in the shuffle. You can't teach size and overall athleticism which he has, but more importantly the kids a worker. He has traveled across the region for the last 5 months going against other Oregon LB's, who may compose the best group in state history. Joey Alfieri, Sam Bodine, Ryan Nall, AJ Hotchkins, and Nick Underwood are all D1 kids with offers and Peyton has benefited greatly from competing against them.
Referencing the upcoming season he says, "I think our whole team has very high goals for this year, with the new coaching staff and a dangerous group of athletes that may surprise some people." He continued, " Personally I want to be a go to guy and contribute however I can to my team… I would like to be a leader and someone respected by my teammates and coaches."
Eagle Point has been a .500 team for the last half decade and they would like to improve on that. They got a great hire in Seth Womack who was originally coaching at D2 Oklahoma Panhandle State.
Peyton was an all league athlete as a sophomore from his free safety position, finishing 2nd on the team in tackles to first team all state LB Garrett Snow. We expect him to have a monster senior season and be a Midwestern League Conference Player of the Year Candidate.
More then anything Peyton is just a really good kid that will be a huge asset for his high school team, and some university in the near future. We can't say enough good things about his character and work ethic, and we look forward to following his progress in 2013. In closing he says, "It will be fun to strap on the pads and play an actual down of football for the first time in quite a while."