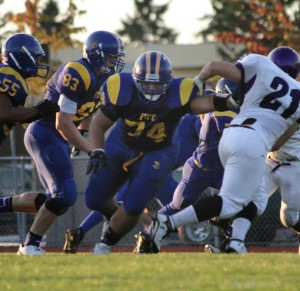 A very stout player in the middle of the defensive line is what every defensive coordinator is looking for and this year, Fife (Wa.) DT Monike Failauga is one of the best in the region. At a relatively svelt 6-1, 290 pounds, he's feeling light on his feet and that could mean trouble for opponents this fall.
"I played at 330 last year and after I slimmed down and played in the Tanoa Bowl, I realized how much easier it was to move and how light on my feet I felt, so that's where I'm going to stay for this season," Sarte told Northwest Elite Index after a recent camp.
"I'm still working out and lifting a lot. My bench is at 385 now, my squat is at 585 and my dead lift is 605 and my power-clean is 325". He continues, "I've been working a lot on my footwork and using my hands better. That's been a lot of my focus."
On the recruiting front, things have been picking up for Sarte, as schools from across the region have flocked to Fife to get a look at him, but he's still waiting for his first offer.
"Still waiting at this point, but I think things are picking up enough that I might get one here pretty soon," Failauga said. "I have been talking to Cal a lot and I've also been talking to Boise State and Eastern Washington just recently talked to me about an offer, but, like I said, at this point, no offers."
With that in mind, Sarte plans to take in several camps in the coming weeks and hopes his performances will warrant longer looks and possibly some offers.
"I'm definitely hitting Cal's camp, Eastern's camp, Washington State, Oregon State, Portland State and Washington's Rising Stars camp," Sarte said. "Most of the coaches like me as a three-technique, but they also want to get a look at me at nose too. I think a lot just want to see how I move and what I can do at their camps before they make a move so that's what I'm going to do."
As a junior this past fall, Failauga racked up 63 tackles and three sacks after posting 54 tackles and two sacks as a sophomore in 2011.
He's a big-time competitor and always up for a challenge and over the next few weeks he said he hopes to show the coaches that are interested that he is worthy of an offer.