Click for Dominic Shorter Highlights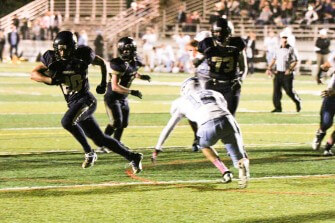 Every year we look at athletes with a stock that could rise quickly. The Canby Cougars will be one of the top teams state wide at the 6A level and Dominic Shorter (6-0 180 Sr. RB/S) will be a big reason why.
The Cougars played one of the toughest schedules in the NW last season, and this year looks like more of the same. Shorter led the team in yards per carry (7.85) and all purpose yards with (1142). He will be a viable TRL Offensive POY candidate and says, "Our senior class is one of the hardest working groups we have ever had here, and we have been trying to get everyone to grind this off season so we can make a run this year."
Canby uses multiple ball carriers and spreads the ball around well. All-Everything LB Sam Bodine will be playing fullback, and two of the state's top junior's (Jace Cates, Devon Fortier) will also get carries. They will get to run behind one of the Northwest's most talented lines so everyone is excited.
Dominic added, "I want to make it past the 2nd round of a playoffs and play in a state championship game.. Personally my goals include rushing for over 1000 yards and accumulating 2000 all purpose."
Shorter flew somewhat under the radar last season, but looks like the main dude out of the backfield this year. Bodine says, "Dominic has been looking really good, he's just extremely talented."
We were able to see Shorter at multiple elite events during the winter, and we are excited to see what he does during the upcoming 2013 season. He is one of the more talented punters in the region and also returned most of the kicks on the season (21-426).
Dominic will come back one of Oregon's most versatile athletes, while carrying a 3.5 GPA. We are excited for the kid out of Canby and will bring you updates moving forward.