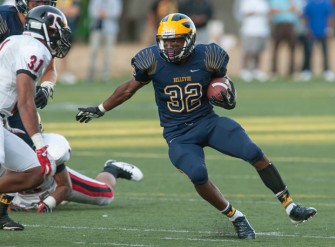 Regardless of what high school team you're a fan of, or follow in Washington, it is hard to argue against Bellevue as the standard bearer in the state when it comes to producing talent on the national level.
The Wolverine's have once again raised the bar, as two current Bellevue players have been selected for the prestigious Nike event, "The Opening", held annually in Eugene.
Running back and safety Budda Baker – a Top 250 recruit nationally – was expected by many to earn an invite to the marquee event, but didn't officially receive the invitation until this week.
"I feel excited, and I am ready to compete and have fun," Baker told NEI about the selection. "I am incredibly blessed to have this opportunity."
But the big news this week came when Baker's teammate, defensive lineman Marcus Griffin, was named positional MVP at the NFTC in Eugene and followed that up with an invitation of his own the The Opening as well late Wednesday.
"It means a great amount to me and my family to be selected for The Opening," Griffin told NEI. "This has been a dream of mine since my freshman year when I first saw The Opening on ESPN."
The Opening is an invite-only camp that features what is determined to be the top 150 players in the country.
Baker and Griffin are currently the top-ranked players in the state at their respective positions.
Baker, currently holds offers from 11 of the schools in the Pac-12 as well as several other national powers. He recently narrowed down his list to a Top 3 of Washington, Oregon and UCLA.
The 6-foot-3, 280-pound Griffin is currently committed to Washington State, but many believe his recent ascent on the national scene could cause other schools to come calling.
For now, however, Griffin remains solid with the Cougars, and focused on the rare opportunity he has earned.
"I'm just excited that I get to represent the North West and the great state of Washington on such a large stage with my good friend and teammate Budda Baker," Griffin says.