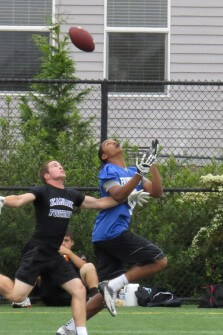 We've mentioned to you in recent months that the football program at Bothell (Wash.) features one of the more inexperienced rosters in the state – or at least that's how it appears on paper. The Cougars replace 21 starters from the 2012 squad, returning only class of 2015 QB Ross Bowers. However, though the names at the top of the depth chart may be new, they certainly aren't unfamiliar.
One name at the top of depth chart may be a new starter at Bothell, but he certainly isn't lacking starting experience.
2015 WR Jackson Keimig, who was a 2nd Team All-KingCo wide receiver at Redmond last season, transferred to Bothell over the offseason to live with his dad, and figures to be a big part of the Cougars plans this fall.
Keimig has been spending the last few months acclimating to the Bothell program, and has nothing but good things to say about the transition.
"Coming to Bothell has been a very smooth process. Since day one, I've been welcomed by the Cougar family with open arms," Keimig tells NEI. "I'm truly grateful to be a part of this program. One of the things i've liked the best is the tradition in the community. Everyone in the town supports the program, which is unique."
Keimig and the Cougars have been hard at work this offseason as the hope to compete for a KingCo title this fall.
"One of the first things I noticed in the Bothell football program is the work ethic. Before spring ball, we would lift at 5:30 in the morning 4 days out of the school week," Keimig says. "At Bothell, everyone competes to be the best at their positions. We're blessed to have the great coaching staff we have to give us everything we need to be successful."
We recently caught up with Keimig at the Skyline 7-on-7 tourney to talk about recruiting and what other Cougars are stepping up this offseason, and much more…..