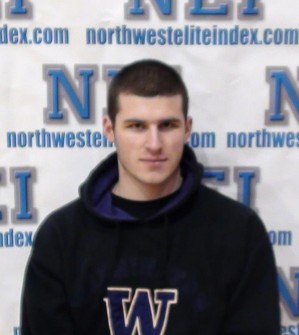 Even though he's only going to be a junior this fall, Inglemoor TE/DE Jackson Gardner is a name that recruitniks and coaches need to know. He's got a big frame, a lot of athleticism and the drive to be the best he can be.
Gardner measures in at 6'5″ and weighs 230 pounds and recently started to make people take notice as he sports soft hands and the athleticism to be one of the top tight ends in the region when he signs in 2015.
"I've been working a lot on my speed and route-running," Gardner told Northwest Elite Index. "I've been getting a lot faster and I've also been lifting a lot to get stronger too and I think that will really help me this year."
As a sophomore last year, Gardner played both ways for the Vikings, totaling five receptions for 78 yards and one touchdown while also posting 20 tackles and five sacks on defense.
"I love playing both ways, but I'm probably more of an offensive guy," Gardner said. "I love to make plays and help my team any way that I can, so it's fun playing both ways, but I think I'm probably a better fit on offense in college."
"I love to compete and get out and play against the best guys," Gardner noted.
On the recruiting front, he's been talking quite a bit with Oregon, Colorado State, Utah and Colorado and he said he's also been by to see Washington and what they have to offer.
"It's still early for me, so I haven't talked to a lot of schools yet, but a few have stopped by the school to see me and meet me," Gardner said. "I think I have to show them what I can do this fall and if I play well, they will see me next spring and that's probably when things will pick up for me."
The class of 2015 in the state of Washington is loaded with a lot of talented skill position players and Gardner has a chance to move himself into that elite group with a great offseason and an even better junior season this fall. With his size, speed and athleticism, he's got what it takes to be one of the best in the region and you can expect things to pick up once coaches get a look at what he can do on the football field later this year.