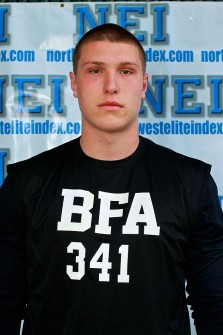 The stock in Bellevue (Wash.) Newport tight end, Drew Sample continues to rise. The state of Washington's #1 ranked TE for the class of 2014 has picked up yet another FBS offer, bringing his total to 12.
The 6-foot-4.5, 232-pound Sample picked up an offer from Boise State, after camping with the Broncos over the weekend.
"It was a great honor to get an offer from Boise State," Sample told NEI via text message. "Their coaches are amazing, and their facilities are top-notch. I love that they are committed to being the best on and off the field."
The ultra-athletic Sample had 218 yards and 5 TD's on just 12 receptions as a junior in Newport's run-based offense.
In addition to receiving the offer, the camp at Boise State provided a great opportunity for Sample to learn more about the Broncos' program.
"The camp was really awesome. It was great to meet Coach Pete (BSU head coach Chris Petersen) and the rest of the staff!" Sample said. "It was fun working with tight ends Coach [Scott[ Huff all weekend."
Sample has yet to set a timetable for his college decision and still plans to camp at the Northwest College Showcase and possibly the University of Washington and Colorado later this summer, as well.