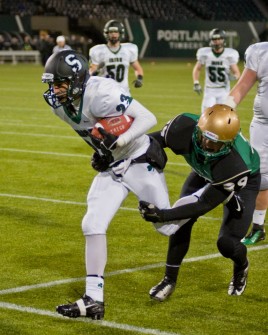 One of the fastest rising recruits in the state of Oregon is senior to be Yadie Dunmore (5-11 170 Jr. ATH/CB) of state champion Sheldon. The Irish were loaded last season and Yadie was a big part of their championship run, but this is the year he will be called upon to lead.
Dunmore went for over 1400 all purpose yards and 16 Tds as a sophomore at 4a Newport, before transferring to Sheldon last season. Yadie made the move to Eugene, as his brother Oshay is now with the Oregon Ducks after an All American HS career. Oshay is considered one of the top decathletes in the country and someone that looks to have a very bright future at the collegiate level.
Kenyatta (Yadie) had 73 touches, for 526 yards and 7 Tds last season for last years (14-0) team and says, "Being looked at as a leader for this year's Sheldon team is truly a pleasure, we have big things planned for this season….I will be playing running back and cornerback, and slipping into the slot at times."
The youngest Dunmore is one of the state's top hoopers, but realizes that his future is most likely on football field. He recently was one of the top players at our "Battle in Seattle 7 on 7 tournament" with the region's best, and looks like one of the top overall athletes in the Pacific Northwest. He has unique body control as his brother says, "Yadie has great instincts and a natural feel for the game that can't be coached, he thrives under pressure and has a relentless and competitive heart."
Yadie will be a SWC Conference Player of the Year candidate on both sides of the ball as Oshay adds, "I see him playing corner at the next level as he has great ball skills, quick hands, and plays well in space". You can expect to see Yadie make a significant jump in the positional rankings as he does possess skills that are god given. He doesn't have the size of his brother, but plays like he is 6-2 and can break on the ball as well as anyone in the state.
Referencing his talented sibling, at one of the top football schools in the country and his own multi sport career, Yadie says, "My brother is doing great at Oregon, just working in the system and getting big.. I learn a lot from him, especially from a mental aspect." He continued, "I love both football and basketball and deciding between them will be tough, but its football time now baby."
The Dunmore athletes are two of the more likeable kids you will ever meet, both have unlimited potential and a very high ceiling. You can expect Oshay to have a successful career at Oregon, and Yadie to be one of the top overall athletes in the Northwest. Congrats to the brothers on all of their success, as the Ducks have never been better and the Sheldon Irish continue to run one of the most successful and classy programs in America. We will bring you updates as they happen.