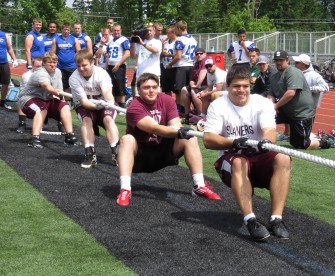 Several weeks ago, Brad Kimball, the powerful two-way lineman from Mercer Island (Wash.) High School, took a trip to the East Coast to check out some Ivy League schools and came away with offers from both Harvard and Yale.
The 6-foot-3, 245-pounder followed up his Ivy League tour – which also included visits to Dartmouth and Brown – with an offer from Cornell shortly after he returned home.
As one might be able to tell by the schools that have offered him, and the ones that he has a mutual interest in, academics are a huge priority to Kimball. "Football is great and I love to play it, but if you want to play at the highest level, you have to concentrate on school first and then on football because you can be a great player and not be able to play if you don't have the grades," Kimball told NEI.
We recently Brad at the Skyline Skills and Drills Tourney and Lineman Competition to catch up on how the offseason has being going at Mercer Island.
"The offseason has been going great," Kimball says. "We have been working out 3 days-a-week with [Coach] Kevin Chiles. He does a great job with our program keeping our guys strong and healthy."
The strength work with Coach Chiles was evident, as the Islanders won the tug-of-war competition during the day's festivities.
Kimball also talked to us about his summer plans, noting that he intends to visit all three college programs from which he currently holds offers.
"At this point, I am not decided on any of the three schools, and I'm not ready to commit yet," Kimball said. "I wanna get a better feel for all the programs before I do that."
In the video below, Kimball also mentions several other Islanders who should be poised to have big seasons this fall.