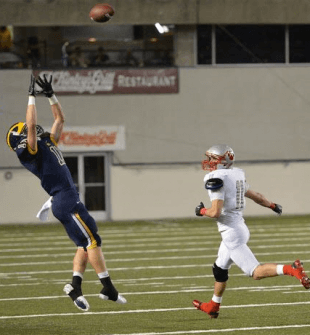 Bellevue (Wash.) DB/QB Timmy Haehl has established himself as one of the most sought-after prospects in the region for the class of 2014. Haehl is currently Washington's No. 4 ranked DB, with the ability to play both corner and safety.
The 6-foot-1, 190-pound Haehl is a team captain in the state's premier program, and for all his success on the field, his accomplishments and character off the field are equally as impressive.
Haehl is set to head to the East Coast this weekend to camp at Harvard – a program he has great admiration for – and meet the Crimson coaching staff, as well as tour the school and athletic facilities. He also will be visiting both Princeton and Yale.
We recently caught up with Haehl to update where things stand for him in the recruiting process and talk about each of his seven offers before he makes his trip back East.
IDAHO: "Idaho was the first offer I received," Haehl tells NEI. "They have been regularly sending letters and with (2013 Bellevue RB) Reuben [Mwehla] going there, I have heard plenty about why they are building a successful program in Moscow. I have really enjoyed the coaches I have interacted with from Idaho."
UNLV: "I had a chance to speak on the phone with DC Tim Hauck when I got the offer, and also got to meet (offensive coordinator) Coach Timm Rosenbach, when he came by the school in the spring." Haehl said. "I know UNLV is a great school."
YALE: "An Ivy League offer was a dream come true. High academics are what will play the biggest role when I pick a school, and Yale has them," Haehl tells us. "They also have great football too! Our DC Matt Coombs, and DB coach John Coombs both played under (current Yale head coach) Coach Reno when he was the DB coach."
"I am visiting Yale next week and am looking forward to it, it has everything I want when picking a school," he adds.
UC DAVIS: "The coaches at Davis have been amazing. I have spoken to Coach Gould many times, and when he offered, I was ecstatic," Haehl says. "This is his first year being a head coach after a long stint at Cal, and he is making sure they are setting up for success. Little details are what make good teams great, and coach Gould is making sure all players and coaches know that winning a championship requires hard work every single day."
"The school has 101 majors and all of them are the highest level of academics, which is very appealing to me," Haehl adds.
AIR FORCE: "The coaches at Air Force are great. They know what it takes to be successful and the business school at the Academy is fantastic," he says. "Air Force is a great program and I have been talking to the staff regularly."
EASTERN WASHINGTON: "It was very special to me to get an offer from Eastern, because it is my older brother's Alma Mater. I know the program well – a national championship program," Haehl says. "I have been to many games and plan on going to see some more at the red turf. Coach Baldwin offered me by phone, and I couldn't have been happier. They know what it takes to win a championships, and with my brother as a resource it helps a ton in gaining insight about the program."
NEVADA: "Nevada is my most recent offer, and they have offered a few of my teammates as well, which is appealing," Haehl says. "I don't know much about the program under the new coaching staff, but I'm looking forward to talking to the coaches more, as they have a lot of coaching experience between them all."