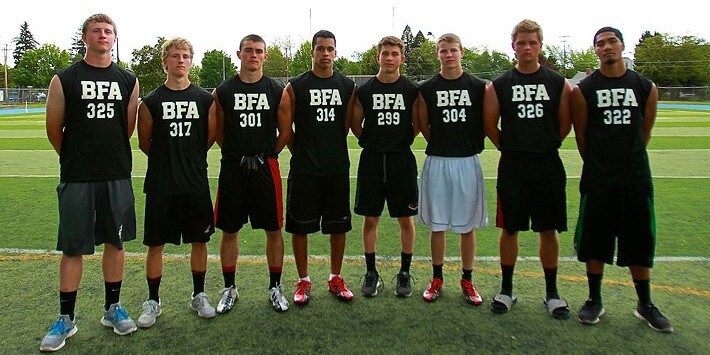 There is as much respect given to the North Medford Football program, by us at NEI and Barton Football, as any team in the state. They went (2-8) last season and started 13 sophomores , while having one of the better 2015 classes in Oregon.
Every weekend during the winter a group of NMHS athletes would make the trip from down south, and attend our winter elite events in Portland. They had a presence as big as any high school in the region, and were traveling further then anybody. It spoke volumes about the kids dedication and desire to get better.
Last year was tough, but necessary, for a younger group of athletes that got in the mix early. Troy Fowler (5-11 165 Jr.) is one of the top 10 ranked QB's in the 2015 class, and the type of kid you can build around. He started last season, and is as coachable of an athlete as you are going to find.
Nick Janakes (6-0 185 Jr. RB/S) was an all conference athlete on both sides of the ball as a sophomore, and is ranked one of the top dual threat players in Oregon. These two, and one of the state's top WR's Jared Evans (6-4 200 Jr. WR/S), give the Black Tornado a legit foundation moving forward. Evans was part of our NEI-South All Star Team that we took to Las Vegas back in March.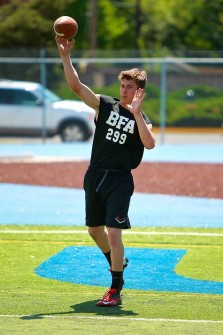 Head Coach Mike Mitchell has got things going in the right direction, getting some very talented kids a lot of playing time early on in their career. Fowler says, "The biggest difference from this year to last year will be in the leadership. He continued, "Our seniors we have are great, and are working everyday and building a winning mentality."
Tristen Holmes (6-1 175 Jr. WR/DB) is a kid we have talked about often, as he is another two way threat that will be ranked among the top athletes on offense and defense. Edmund Polataivao (6-2 195 Jr. OLB/SS) could be the x factor on D along with fellow all league athlete Colton Westfal (6-0 190 Jr. LB). Both kids will help sure up one of the better backer combos in the SWC.
Senior's Hunter Hermansen (6-2 215 OL/DL), Eugene Ellis (6-0 180 WR/CB), and Michael Jones (5-10 160 DB/Slot) will all play a huge role next season and will have to lead. Hermansen had one of the better performances all year at our Medford Camp/Combine. He is one of the fastest kids off the ball in the state, and will need to be huge on the line for the Black Tornado. If there is a question mark it will be up front. Ellis and Jones will be key perimeter kids seeing time on both sides of the ball, while junior Josh Hansen (6-0 175 Jr. WR/DB) will also contribute.
Janakes is an outstanding overall athlete as he says, "We couldn't be more excited about what we are building, we push each other everyday to get better and if you are wasting a rep you are wasting valuable time."
He added, "Our off season will consist of hard work, sweat ,and commitment …If you aren't committed, you will be soon, cause that's the only way we will get to where we want to be."
Since its opening North Medford has been a tradition rich football school playing in multiple state title games. Its been a long decade, and if there is a group that can return the Black Tornado to prominence it's this one.
The senior's will have to play lights out and the junior class will have to live up to expectations. We look forward to following the kids from down south as you would be hard pressed to find a better group on and off the field.