Click for Camp/Combine Highlights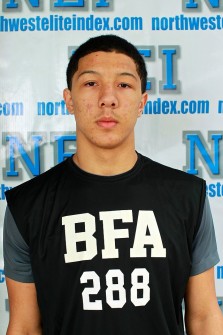 As much as any player state wide James Schell-Buchanan epitomizes why we have the 'Stocks on the Rise' category.
He has always been a talented athlete, but over the last year we have seen him make ridiculous strides with his game. You will see him ranked as one of the top (2014) DBs in Oregon, as his Barton Camp/Combine video demonstrates what he brings to the table.
Schell-Buchanan will be a three year all league starter for Roosevelt this up coming season. The Roughriders have the potential to have their best year in school history, with a very talented junior and senior class returning.
James led the team in tackles as a junior with 100+, but it was his play against Oregon's #1 WR Jordan Morgan, headed to Arizona, that raised eyebrows. His Salem (Camp/Combine) performance was one of the best we have ever seen in the history of our events. He was the MVP DB on the day as his stock shot through the roof.
He is the product of a Roosevelt program that speaks to all that is good about high school football. We have said time and time again that Head coach Christian Swain and his guys do a phenomenal job.
James rarely misses a work out, and has confidence within his game needed to play at the highest level. His play as of late has put him on multiple radars as high as the D1aa level, as this could be a special year for both Schell- Buchanan and the Roughriders.