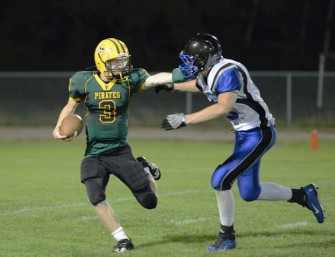 In an era in which high school athletes are constantly being told that they need to "specialize in one sport to be successful and make it to the next level", there is a player at Bellevue (Wash.) Christian School who is proving that isn't always the case.
BCS's Tate Razor is not only a multi-sport athlete who plays football, runs track and wrestles for the Vikings, but he is excelling in all three as one of the state's best.
It would be easy for a player at a 1A school, like Razor, to fly under the radar, but the 6-foot-5, 210-pounder's size and production make him impossible for observers not to notice.
As a junior in 2012, the two-way starter was a 1st Team All-Nisqually League player after totaling 53 tackles and nine sacks from his defensive end position. Those nine sacks were tied for the lead in the state among DE's throughout all divisions. During his junior year Razor started along the offensive line at tackle, but says he will move to tight end in 2013.
This year, Razor also made the State Tournament in both wrestling and track, while earning All-League honors in both those sports as well.
Bellevue Christian, which is in its 3rd year as a football program, is a faith-based school, and both Tate and the Viking program have centered their goals for the season around that faith. "I personally hold high goals for myself," Razor tells NEI. "Above all things glorify and testify God through my actions, and second be the best teammate I can and serve my team in any way I can."
"I would like to earn 1st Team All-State honors in football and be a State Champ in wrestling, as well," he adds.
As a team, BCS has similar ambitions. "Our team goal is to glorify and show God's glory through our actions. We have a goal of practicing and achieving excellence in everything we do," according to Razor.
Razor isn't the only player who figures to be a key contributor to the Vikings' success the fall, as Bellevue Christian features several other standout players on its roster. Noah Holmes was a 1st Team All-League player last year at LB and returns in 2013 where he will be a factor on both sides of the ball. Josh Hazen is another two-way player whose speed and strength will be an asset for BCS in the upcoming season. On the offensive line senior Nathan Parsons is back, along with Alex Irizarry who was selected 2nd Team All-League as a freshman last year – he could end up as a two-way starter in his sophomore season. QB Kemper McQuaid is also back and is hoping for a big senior year. McQuaid's leadership will be invaluable for the Vikings this fall.
Off the field, Tate has been involved with YoungLife camps and carries a 3.1 GPA. He hopes to attend a 4-year college where he wants to major in business and play football or run track.
Razor has already been hearing from a handful of programs ranging from D2 to the NAIA levels including Azusa Pacific and Whitworth in football, and the University of Puget Sound for track.
Tate is a student-athlete with high goals, and a willingness to do what it takes to achieve them. "I have been preparing myself to achieve my goals by strengthening my walk with The Lord, attending camps and clinics for sports, and have been on a 2 workout-a-day schedule for most of the offseason," Razor says.
We wish Tate and the players at Bellevue Christian good luck this fall as they continue to build the program and work to lay a foundation for years to come.