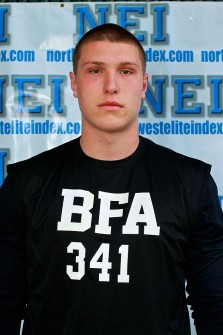 The state of Washington's #1 ranked TE for the class of 2014 has found a home.
Bellevue (Wash.) Newport tight end, Drew Sample has given a verbal commitment to attend Boise State on a football scholarship.
The 6-foot-4.5, 232-pound Sample picked up an offer from Boise State earlier this week, after camping with the Broncos over the weekend.
Sample gave his commitment to the BSU staff early Thursday. "It's the perfect fit for me. They've got a great coaching staff and I really connected with them. I am excited to join the Bronco family," Sample told NEI.
The ultra-athletic Sample had 218 yards and 5 TD's on just 12 receptions as a junior in Newport's run-based offense. Sample was also a 1st Team All-League player in 2012 from his tight end position, as well.
Sample is a multi-sport athlete who also excels in basketball. Sample's basketball ability exploits his size and overall athleticism and carries over very well to the football field, making him one of the more appealing recruits in this year's class.
Before becoming a major college football recruit Sample was one of the top up-and-coming ice hockey prospects in the region, securing multiple invites to Western Hockey League training camps.
Sample currently holds a 3.3 GPA, and chose the Broncos over a host of other schools, including South Florida, UTEP and Nevada.