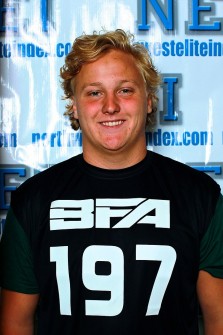 Traveling around the Northwest on our 8 city camp and combine tour we got to see a majority of the region's top athletes. One of the MVP QBs on the two month trip was Ty Marshall (6-1 215 Sr.) of Windsor Secondary School in North Vancouver, British Columbia, Canada.
He immediately made a good impression with his arm at our Bellingham event, dropping dimes to Washington elite receivers Jalani Phelps (Lynden) and Melvin Walser (Mount Vernon). Marshall will return as the starter after leading his team to a (7-4) record, before losing in the quarterfinals last season.
Ty says, "We have had the most wins of any AA level program in the BC area over the years and I would like to help lead my team deep into the playoffs." Marshall threw for 1400 yards and 11 TDs/5 INTs, while rushing for over 700 yards and an additional 5 touchdowns in 2012.
More than anything Ty just throws a beautiful ball. His combination of arm strength and placement were very apparent when comparing him to the other QBs at the event. Its not always easy to get recruited out of Canada, so Marshall has been pro active in getting out to college camps and different showcases throughout the states.
Marshall adds, "I hope as a team we can come together and make a run at an undefeated season, personally I would like to break multiple school records in passing and rushing categories."
He continued, "I have two standout senior receivers who should have impressive years in Braden Snelling and Kahlil Shivji… Defensively we have a pair of twins who hit hard and play with great intensity in Devin and Aiden Perri."
You don't realize how athletic Ty is until watching his film and seeing his ability to create. Marshall will be visiting Oregon State over the weekend and attending our showcase event on June 30th, with 35-40 college programs in attendance.
He has the ability and drive to be successful at the next level, as we see him being one of Canada's best in the coming 2013 season.