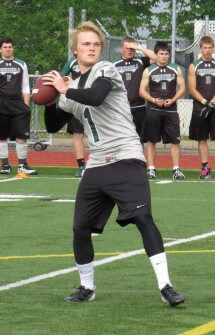 New Sammamish (Wash.) Skyline QB Kilton Anderson isn't all that far removed from finding a home to play his senior year of football. Several weeks ago the 6-foot-3, 200-pound Anderson who accounted for 45 touchdowns during his junior season, and runs a 4.5 40 yard dash – transferred to the Washington prep powerhouse from Naples HS in Florida where he was an All-State player.
But Anderson has already decided on where he will play the next four years after that.
On Thursday, Anderson gave a verbal commitment to play quarterback at the University of South Alabama, a second-year FBS program in the Sun Belt Conference.
Anderson has held the USA offer for several months, and recently was able to visit the campus in Mobile, AL and meet the staff. That was the tipping point for him.
"I visited the school last week and fell in love with the coaching staff, facilities, and overall program. They are all first-class," Anderson told NEI. "Furthermore, I'll have the opportunity to compete for playing time and a starting position early in my career at USA."
Another factor swaying Anderson to make his decision this early is the ability to concentrate solely on his senior season of football moving forward.
"Being done with the recruiting process now is going to allow me to focus on the upcoming season, and making our team at Skyline as successful as possible," Anderson said.
Anderson chose the Jaguars over an offer from PENN.