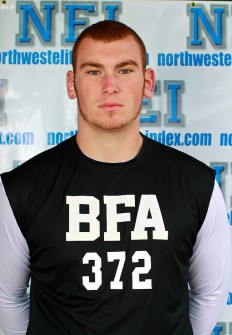 One of Oregon's top two way threats, Brody Haehlen (6-4 245 Sr. DE/TE) out of Clackamas, had a week he will never forget earning his first scholarship offer from Montana.
Haehlen was a 2nd team all league kid on both sides of the ball in 2012, catching 37 passes for 420 yards, and 7 Td's. He is ranked one of the state's top TE's, but had a big time performance on the defensive side of the ball at the Grizzlies camp.
He accounted for 38 total tackles, 8 tackles for loss, and 3 sacks a year ago, and left no doubt against the top O lineman attending the Montana event.
Referencing the offer and the school Brody says, "I loved the stadium and the atmosphere around the town". He continued, "I also really liked all of the coaches who's main thing is to compete and that's what I do."
Brody is the ultimate teammate, and someone that will play with some attitude and back it up. He can line up at 3-4 different positions but D end is where he stood out.
Clackamas could have their best team in a number of years and Brody is a big reason why. The Cavaliers went (5-6) last season, but return a host of talented kids that could help them to a preseason Top 10 ranking.
Haehlen was part of our Team Oregon squad that beat Team Alaska in the winter showcase, and was also a part of our NEI-South All Star group that traveled with us to Las Vegas for the regional 7 on 7 tournament.
We wish the big man continued success as he has been one of the Barton Football Academy's top performers over the last year.