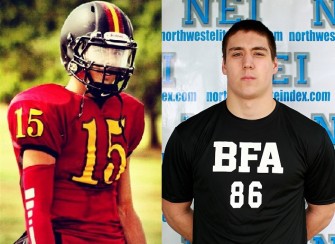 Tanner Sanders – Crescent Valley 6-5 200 ATH
One of the region's top athletes and most versatile threats, Tanner Sanders (6-5 200) of Crescent Valley, made his intentions known yesterday committing to the Oregon St Beavers.
Sanders is a name most are familiar with, being a 4 year starter, that statistically ranked as one of the top 10 freshman receivers in the country to start his high school career. Speaking to Tanner shortly after the offer he said, " I feel great about OSU, I love the coaching staff that is around me….Coach Riley is an amazing man and has done a great job of bringing in staff and players."
Referencing this past weekend he says, " After the half day camp at OSU and being around the coaches more I decided to make the decision.. It just felt like the right fit."
Tanner is the son of one of the state's top HS coaches in Scott Sanders. Coach will have Tanner back at the quarterback spot for his 3rd season. He projects as a WR at the next level, but the three sport athlete can play multiple positions. More then anything Tanner is just a good kid, as its a big score for OSU to get the talented in state talent. There is zero doubt that Sanders will receive additional D1 offers being one of the top ranked ATH's on the west coast.
We wish Tanner all the success in the world in Corvallis and will bring you updates as they happen.
Ryan Nall – Central Catholic 6-3 235 LB/RB
One of the fastest rising recruits in the Pacific Northwest, Ryan Nall (6-3 235 LB/RB) of Central Catholic, landed his 1st Pac 12 and 5th offer overall. Nall had previously been offered by Wyoming, Montana, Northern Colorado, and Portland St.
Nall is our #2 ranked RB/LB state wide as his stock is rising quickly. Referencing the OSU offer he says, "Oregon St has always been one of my dream schools as a kid." He continued, I went to their camp yesterday and they really liked me, so I called them the next morning and they told me they were extending a scholarship.. Im so grateful and excited to get my first Pac 12 offer."
Ryan will see other mid major D1'S and some Pac 12'S come in over the next few months, as the word has gotten out that the kid out of CC is pretty freaky. He will be a big reason why CC will come in ranked one of the state's top 3 ranked teams and have a legit shot at a state title.
Nall's combination of size and speed are rare, as he is realistically one of the better players in the Western United States. We are excited for the kid out of Central moving forward, you can check Ryan's recent Barton Camp/Combine video as it speaks for itself… http://www.youtube.com/watch?v=Z5H2hRmZdCc