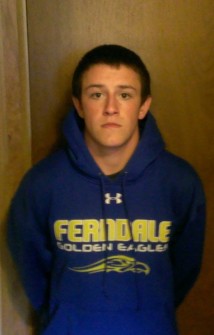 While he isn't the biggest player from a physical standpoint, make no mistake, Ferndale RB/DB Anthony Fleck will play a huge roll in helping Ferndale make a run at a Northwest League Championship this fall.
Standing just 5'6″ and weighing 170 pounds, Fleck isn't the biggest prospect, at least as far as physical stature is concerned, but he's poised to be one of the reasons why the Golden Eagles will push for a Northwest League Title and a deep run in the 3A state playoffs this fall.
"Last year, I didn't get a lot of carries because we had Alex (Conley) and a couple of other seniors, but when I got my carries I felt like I made the most of them," Fleck told Northwest Elite Index recently. "I also played a lot at safety too, so it was a fun season for me, but this year I'm looking forward to being the starter for us and I want that responsibility. I feel like I need to prove myself every time I step out on the field and that's something I try to do all the time."
As a junior this past fall, Fleck posted 238 yards rushing and two scores on offense while also racking up 40 tackles and an interception on defense.
"I feel like I communicate well and I read formations well too," Fleck noted. "I like being a leader back there (in the secondary) and it's just fun to get out there and compete."
As far as camps this summer, Fleck isn't planning on taking part in any other than his team camp, but he's open to taking part in them.
"I'm a rugby guy and I play that a lot, so my schedule is pretty packed," Fleck said. "I'd love to play in college, but I just don't know if I will be able to. I'm working hard at both sports and hope to play one or both of them when I go to school."
We will continue to keep track of Fleck's progress this summer and as he gets ready for his senior season and we will update things down the road.