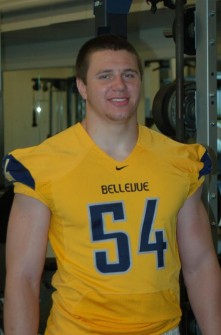 The list of players grabbing Pac-12 offers from Bellevue (Wash.) High School, continues to grow, as yet another another Wolverine has been offered to play in the West Coast's premier athletic conference.
Bellevue's Shane Bowman, a 6-foot-4, 242-pound defensive end, recently picked up his fifth offer, from Oregon State.
Bowman is currently the state's No. 1 ranked defensive end, and No. 2 ranked defensive lineman overall behind only WSU commit, and Bellevue teammate, Marcus Griffin.
"It feels great to receive a scholarship offer from OSU, and I am very thankful for this opportunity," Bowman told NEI of the offer.
Bowman attended camp in Corvallis over the weekend, which allowed the Beavers' staff to evaluate him, but also allowed Shane to get more familiar with Oregon State as a program, as well.
"I loved it when I went to camp. It was a very energetic atmosphere and I could tell that the coaches love what they do," Bowman says. "I really liked Coach [Joe] Seumalo and how he coaches defensive line. Coach [Mike] Riley is a great man who has an amazing reputation. I really enjoyed meeting him and talking with him."
Bowman is an Honor Roll student and helped Bellevue finish as one of the top teams in America last season.
Oregon State joins UNLV, Nevada, Montana, Montana State and Northern Colorado as the programs that have offered Bowman.