Henry Roberts (6-7 275 OT) Bellevue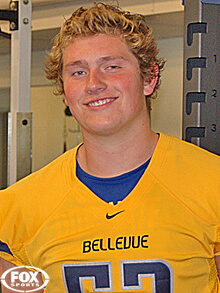 The Region's top offensive lineman for the 2015 class, Henry Roberts of Bellevue, is one of the more humble kids you will ever meet. He currently holds offers from Washington, Arizona, and Arizona St playing for one of the best high school teams in America.
Roberts did not start a game last season, just to show you how talented and deep the Wolverines are up front. He will help anchor the O line this year with the likes of Washington top 2014 offensive lineman Morgan Richey, and very versatile top ranked defensive lineman Marcus Griffin and Shane Bowman.
Moving forward Henry says, "My personal goals are to have a great season, block well, and earn all state honors…. As a team we always want to win state, beat Skyline, and finished nationally ranked."
Five straight state championships later and Bellevue isn't slowing down for anyone. Expect Roberts to be one of the more recruited lineman in the country over the next couple of seasons. He added, "I love Bellevue and love my coaches, they are my family and I couldn't live without them."
Henry has also been hearing from the likes of Oregon, UCLA, and Washington St on a consistent basis as he will be one of the most courted tackles in the nation.
Calvin Throckmorton (6-6 255 OT/DE) Newport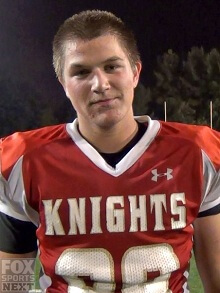 A kid that has had a monster off season thus far and will end up being a double digit offer athlete is Newport's Calvin Throckmorton. Cal will end up being a four year starter as he got in the mix early as a freshman.
As a team the Knights could have a special season, even with the departure of all-everything QB Isaac Dotson. Throckmorton says, "We want to get back to state and compete for a KINGCO title… Personally I would like to earn first team all KINGCO honors as an offensive and defensive lineman, and play D End or Offensive Tackle at the next level."
Calvin's overall athleticism is what will help him in college. He helped his team make a deep playoff run on the basketball floor this past season earning all league honors there as well, while maintaining a 3.95 GPA. He is athletic enough to play Tight End, but has the ideal frame for a big time D1 offensive tackle.
Speaking on the last week Calvin says, "I just got back from the Boise State camp and had a great time, I will be heading to the UW camp and the Showcase event next week." Throckmorton has the potential to be one of Washington's best O lineman in some time as offers for this kid are just around the corner.
Trey Adams (6-7 275 OT) Wenatchee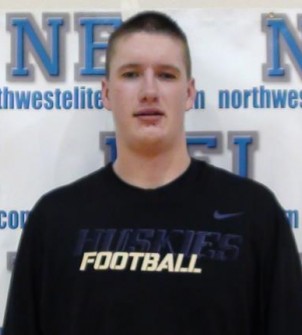 Another kid that just got done having a phenomenal week is Wenatchee big man Trey Adams. The giant from Eastern Washington just received his first scholarship offer from WSU this pat weekend, and has an upside that won't quit with his 6-7 frame.
The Panthers could have their best team in years, led by nationally ranked speedster Isaiah Brandt-Sims. Adams will be key up front and says, " We want to come out firing this year, have added the no huddle and expect to go far in state.. We just got to keep grinding."
Adams got the big offer from Washington St, but has also visited schools such as Florida St and Oregon. Trey said, "Last Monday I did an individual workout with the Oregon Ducks, and met and talked with new head coach Mark Helfrich and line coach Steve Greatwood. He continued," I ran a couple 40 yard dash's (5.27), and they said they liked my feet and size."
Trey is another kid we got to know just after his freshman season. We have talked about his athletic genes within the family and all the potential that he has. Much like Throckmorton he has been a standout on the Barton Camp and Combine tour, and a kid that we see doing big things at the next level.