1. Kimane Domena 6-2 185 Roosevelt
(Offers: BYU, Colorado St, Portland St)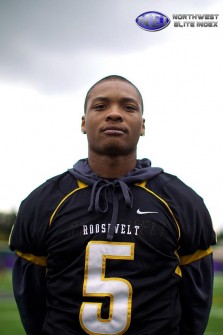 Just a phenomenal overall talent. Has been offered as a quarterback and as an athlete. There are several other Mid Major and Pac 12 schools interested and close to offering right now, after he accounted for 35 Tds as a sophomore (19 passing, 16 rushing). He went for 782 rushing yards and 1457 passing yards leading Roosevelt to a (8-3) season.
This years Roughrider team has the potential to be the best group in school history, so it will be exciting to see how far the junior signal caller can take them. Kimane is lucky to have the likes of Head Coach Christian Swain, and his staff including former All Pro Neil Lomax.
2. Cade Smith 6-1 185 West Salem
(Offers: Wyoming)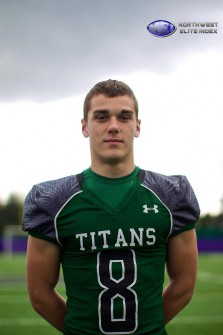 Much like his brother Cade is just a winner and has unique intangibles that cant be taught. The Cowboys offered last season, as his brother Brett was a Freshman All-American at Wyoming leading them at quarterback. He was the former Oregon Gatorade Player of the year two years ago.
Cade will be a three year all league starter for the traditional power out of the CVC. NEI Coach of the Year Shawn Stanley and Smith got it done last season, making a quarterfinal run and winning the conference. He is able to use his feet as well as his arm and is a true dual threat QB.
3. Eric Dungey 6-4 185 Lakeridge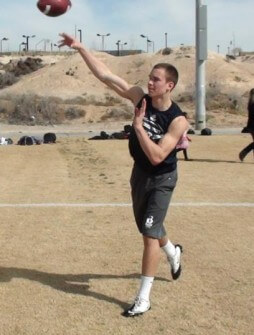 Super talented overall athlete with size. Dungey is an outstanding hooper and baseball player, but projects as a quarterback. Eric will be a 4 year Varsity athlete getting time as a freshman. Dungey quarterbacked one of our NEI All-Star teams in Vegas this past season, during the regional tournament and did well.
He started last year throwing for 1692 yards and 17 Tds, while rushing for 8 touchdowns. Dungey projects at the D1 level as he has legit size and is just extremely athletic. He will benefit from having Tom Smythe and Chad Carlson in his corner. The Pacers will only going to go as far as he can take them, so its on in 2013.
4. Cole Chandler 6-2 180 Silverton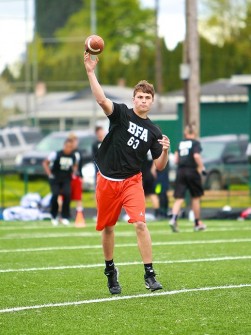 1st team All-League kid that helped the Foxes go (12-0), before falling to eventual state champion Sherwood in the state semifinals. Chandler is a baller and another athlete that just knows how to win. Silverton will be a 5A state title contender this season under one of the better HS coaches in the West in John Mannion.
Cole is another kid that can run when necessary. He showed incredible leadership and maturity for a HS sophomore, leading the team to the Mid Willamette Conference title. Chandler threw for 1,923 yards and 20 Tds/7 Ints a year ago, and Silverton returns a lot of talent. Its still early but Cole has D1 capabilities, and could very well shatter many of the all time quarterback records at Silverton.
5. Craig Contreras 6-4 220 South Medford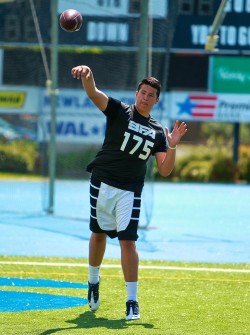 Probably the kid that could fly up this list the quickest. Has legit athletic size and can sling it. Came in last year and did a very good job as the starter, gaining a lot of respect from his teammates.
Craig has a genuine love for the game and projects at the D1 level with continued progression. Head Coach Singler knows how to win, and having Contreras as his go to guy for the next couple of seasons is a very exciting thing for the Panther community. He was a stand out at our Barton Camp/Combine down in Medford, and his ceiling is as high as any quarterback on this list.
6. Willy Pflug 5-11 175 Sunset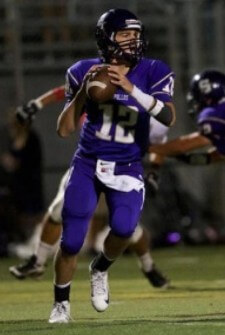 Had an outstanding Sophomore season earning 2nd team all league honors and doing special things as a young quarterback.
Willy has good genes as his dad was a collegiate QB, and he will play for one of the best HS coaches to ever set foot in the Northwest in Faustin Riley. He's a very athletic and intelligent quarterback, and will rely on those things as an undersized kid. Sunset is a potential top 10 team and Pflug will need to be lights out for the Apollos to challenge Jesuit and Southridge.
If everyone remains healthy he should thrive in Riley's system, as he is a dual threat kid not afraid to run.
7. Troy Fowler 5-11 165 North Medford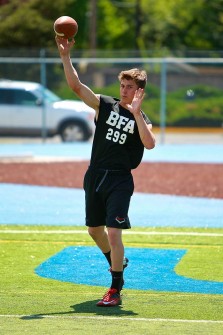 Will be a three year starter for the Black Tornado and part of a special 2015 North Medford class. Troy MVP'd our camp/combine in Medford and is the epitome of what every school wants in a leader. He's another kid pushing 6 feet that uses his overall athleticism to excel. Played Varsity baseball for one of the best teams in the state as a sophomore and trains like there is no tomorrow.
Fowler will be one the breakout QBs state wide this season, as North Medford should be much improved with double digit sophomores starting last year and returning.
Other Top 2015 QBs
JT Greenough 6-3 185 Tigard
Caleb Tatum 6-3 190 Mt View
Jack Hamburg 6-2 180 Jesuit
Cody Anthony 6-1 210 Bend
Sam Davis 6-1 175 Grant
Jacob Moore 6-4 200 North Medford
Peyton King 6-4 190 Southridge
Jerrin Williams 6-0 170 North Salem
Chase Knutz 6-1 185 Hermiston