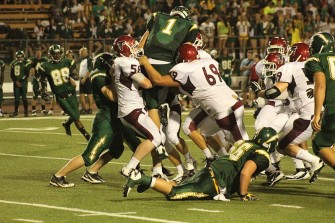 There may not be a more intriguing line prospect in the Northwest this year than 2014 OL/DL Mason Johnson of Kent (Wash.) Kentlake High School.
Johnson is a player who is currently ranked in the Top 10 on both sides of the ball, coming in at No. 6 offensively and No. 5 defensively for the state of Washington.
As a sophomore in 2011, Johnson earned honorable mention All-League honors as an offensive player for Kentlake's SPSL North championship squad. He followed that up in his junior season earning 1st Team All-League honors on both sides of the ball for the Falcons.
What makes Johnson so intriguing of a player, is that the 6-foot-3, 285-pounder has dropped over 40 pounds this offseason, while improving his speed, strength and overall athleticism.
Johnson has devoted himself to that cause, spending countless hours training with James Laurence of Legerity Sports Performance, and it has certainly paid off. Last month, Johnson earned positional MVP honors at the Barton Football Academy Combine in Bellevue for his work on the defensive side of the ball.
Though he projects as more of a defensive player at the next level, Johnson is equally talented on both sides of the ball – and will certainly be a force on either side of the trenches for Kentlake.
"I have a goal of winning offensive line and defensive line MVP for our league," Johnson tells NEI. "To achieve that goal, and for our team to achieve its goal of winning State, we need to make sure everyone is pushing themselves and one another in practices and lifting in the off season."
Along with Johnson, several other standouts will be leading the charge for Kentlake this season. Kaleb Smith will be a force in the Falcons' slot and monster positions and RB/S Riley Higgins will also be a key returner this fall. OL/LB Travis Rodgers is a workhorse, and WR/DB John Morasch is a playmaker on both sides of the ball, while Mitchell Schaefer will make noise at linebacker. Joining Johnson up front will be both OL/DL Joe Seumalo and OL/DL Romello Brice.
Johnson comes from football genes, as his father played at Eastern Washington. He also gets it done in the classroom, carrying a 3.0 GPA. As his weight has dropped, Johnson's stock has risen on recruiting boards, and with a big senior season he could have several options to choose from come signing day in February.
We wish Johnson and all of the players and coaches at Kentlake good luck in the upcoming season.