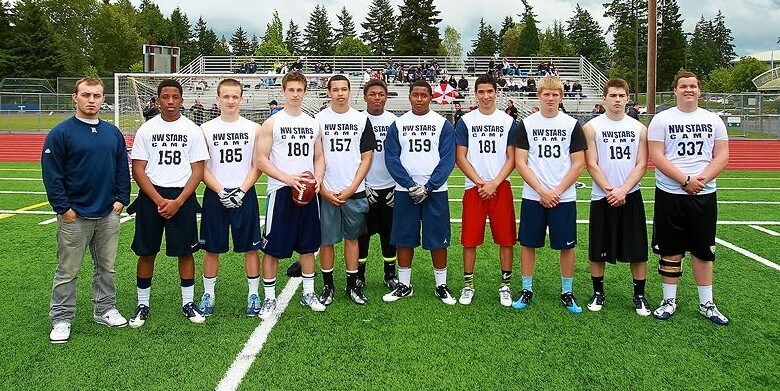 Last month at the Barton Football Academy combine in Bellevue we noticed something out of the ordinary. As players came through the height and weight lines, a string of 10 players in a row all were from the same school – by far the largest group from a single school we'd ever seen on the tour.
It's not unusual to see a handful of kids from the same high school at a given event, but for 10 players from one place to show up at an individual-oriented camp together, was a unique display of team unity.
After talking with Rogers of Puyallup coach Tyler Van Sligtenhorst, we learned that display of unity is exactly what the Rams were looking to accomplish. "When I was in high school not too long ago, we loved coming to these 'individual' camps as a group to show people who Rogers was and how we did things. I've continued to try and preach that to these guys and it showed at the Bellevue combine," Van Sligtenhorst told NEI.
Following their strong performances at the combine that day, we asked Coach Van Sligtenhorst about the Rogers players in attendance that that, and a couple others who weren't.
Grayson Madland, Dual-Threat QB, 2014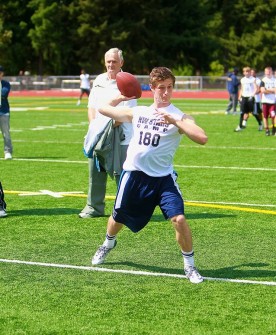 Grayson is a player who split time at the QB position in 2012, yet still managed to earn 2nd Team All-League honors in the SPSL South. Madland showed good accuracy at the combine and throws a nice ball.
"His football IQ is very high and he understands the game, pre-snap and post-snap, and knows how to handle himself under pressure. Not only can his arm hurt you, he's got great scramble ability,' Van Sligtenhorst says. "We run a spread offense and really emphasize the tempo just like Oregon. That puts a lot of stress on a QB to be able to improve his reaction time and see exactly what the defense is doing when we're pushing the pace. We are looking for him to have a breakthrough senior year, which will be much-expected."
LaGrant Pegram, WR/DB/KR/PR, 2014
Pegram was another 2nd Team All-League performer in the SPSL South from the wide receiver position. What makes that accomplishment even more impressive is that fact that the Rams were so run-heavy in 2012. He was also a 1st Team All-Leaguer as a returner, totaling over 1,000 yards on kick and punt returns.
"He's worked hard this offseason in the weight room to get bigger and stronger, and also participated in track to improve his straight-away speed," Van Sligtenhorst says.
Austin Hardin, RB/WR/DB, 2014
Hardin is another do-everything player for Rogers. He's an experienced player on special teams, as well as at running back and wide receiver. He figures to seen an increased workload in his senior season.
"His 5 yard burst is the most powerful and explosive one I've seen whether it be side-to-side or getting upfield. He makes decisions very quickly, can make people miss, and is deceptively strong. He should have a breakout year and put up big numbers for our offense," according to Van Sligtenhorst.
Griffen Stacy, Pro-Style QB, 2015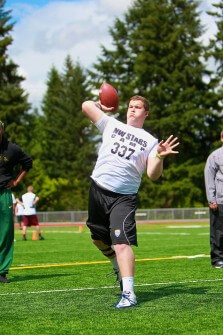 Stacy was another combine attendee who turned in a solid day. Stacy tore his ACL in fall camp last year, yet was an asset to the Rogers coaching staff assisting with signaling in play calls, and even helped the staff make in-game adjustments.
Van Sligtenhorst describes Stacy as, "a smart, quick-minded player who handles adversity very well."
Jordan Bishop, Dual-Threat QB, 2016
Bishop was the third Rams QB at the combine. He is described as a student of the game by his coached and teammates, and could develop into the future of the Rogers program at the QB position.
"He is constantly asking questions and picks up on things very quickly. He too has a high football IQ and understands what and why defenses are doing things and what we can do in our playbook to counter those things,' Vam Sigtenhorst says.
Garrett Van Sligtenhorst, RB/S, 2014
The younger Van Sligtenhorst is hoping for a big senior year after being injured for much of his junior season. As a sophomore, however, Garrett started four games, and appeared in 10 – so his healthy return to the field in 2013 is a welcome sight for the Rams.
"He's got a high motor and is a very hard worker on and off the field," the elder Van Sligtenhorst says.
Spencer O'Neil, WR/DB/LS, 2014
O'Neil is a player who shows great reliability at the receiver position. He has great hands, and is a crisp route-runner, while also taking pride to block in the running game.
He also serves at the team's long-snapper according to Coach Van Sligtenhorst, who describes his snapping ability as "fast and accurate".
Mikael Ruffin, LB/FB, 2014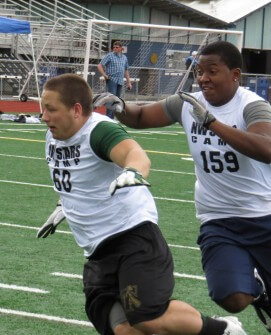 Ruffin was a starter at linebacker in 2012 for Rogers. He was also a key contributor on special teams for the Rams. He plays the position very aggressively and isn't afraid of contact.
"We are looking for him to be the leader in the middle of our defense and make plays from sideline to sideline,' Van Sligtenhorst says.
Josh Routt, S, 2014
Routt is a flat out playmaker for Rogers. He started every game at the Rams' Sniper position as a junior, in addition to seeing lots of time on special teams. He lives in the weight room and film room according to his coaches and is one of the hardest workers on the team.
"Our Sniper position is made for the best athlete on the field because they have to be able to hit and fill like LB's, but be able to drop into their zone or cover their man like a DB," Van Sigtenhorst says. "Josh fits the mold to play a true SS at the collegiate level and is the definition of being a technician at his position."
Derrick Celestine, FS/RB, 2014
Celestine provided depth for the Rams in 2012, playing behind the team's defensive MVP and a 1st Team All-League player, but is ready to come into his own in his senior year. He saw significant time on special teams last year and will compete for the starting job at safety in 2013.
Van Sligtenhorst says Celestine is, "naturally athletic and has the want-to get better at his craft from a technique standpoint."
Shane Ward, LB, 2015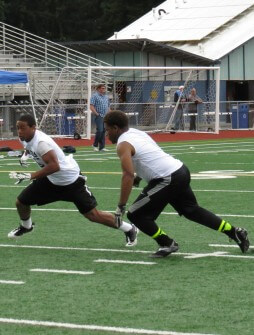 Ward is another young linebacker who came out to the combine. He will be a junior in 2013 and look to compete for playing time in Rogers' deep linebacker rotation. He was primarily a JV player in 2012, but was the starter at MLB and his coaches say he performed well at the position. He is hoping to use a strong offseason showing to earn playing time this fall.
"He's worked hard and busted his butt in the weight room this off-season and it's showed," Van Sligtenhorst said.
Devon Chavis, DB, 2014
Chavis was the starting CB last season for a Rogers defense that was a nightmare to throw against. He also was a regular special teams contributor. He has the ability to defend in a variety of coverages, and stood out during one-on-ones at the BFA combine.
"He's got long arms, is physical, and can stay with the wide receiver in man coverage," Van Sligtenhorse says.