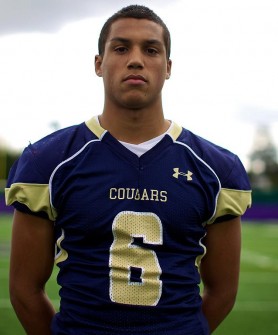 One of the top linebackers in the Pacific Northwest, Sam Bodine (6-2 220) of Canby, got some much overdue news Tuesday night.
Nigel Burton and the Portland State Vikings did the smart thing by extending a scholarship offer to the in-state talent. Most of us considered Bodine the top recruit in the region without an offer, and it was refreshing to see the Viks make the move.
We have sounded like a broken record talking about all that Sam brings to the table, coming in our No. 2 ranked LB for the 2014 class. Referencing what just happened he says, " I am absolutely blessed to have received my first offer.. Portland St being the first school to offer means a lot to me, and I really like what they have going on there."
Bodine was a 1st Team All-League kid as a junior, but has made significant strides over the last year. He has trained with us at the academy for the last two seasons and become one of the most recruited kids in Oregon. Multiple Pac12 and mid-major schools have been courting him, but PSU was the first to try and lock him up.
Sam added, " I am still the same person that I was yesterday, and it does not stop me from grinding and pushing myself everyday." He continued, " I really like the coaching staff, and LB Coach Lester Towns is a great guy and someone I would enjoy playing for."
Bodine is the type of kid you can build a team around, as he is everything you could ever want in a leader. We couldn't be more excited for the kid out of Canby and will bring you updates as they happen.