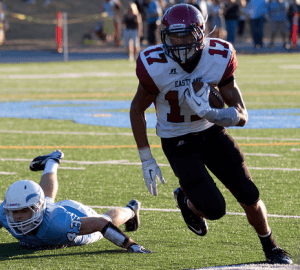 Eastlake (Sammamish, Wa.) ATH Drew Lewis has seen his recruiting take off over the past couple of months and on Saturday, he got an offer from Washington and decided pretty quickly he wanted to be a Dawg.
"They asked me to switch to linebacker for my workouts there, so I did and after seeing me yesterday and then my improvement today after getting used to it, they decided to offer me," Lewis told NEI. "After I thought about things for a little while I just decided to walk up to coach Sark and I said I wanted to be a Dawg.
"He was really excited and pumped up. They were the school I was sorta waiting on and for me to get that offer and then be able to commit, it was just exciting."
Lewis chose Washington over offers from Oregon State, Pittsburgh, Washington State, Arizona State, Wyoming, Montana and Air Force and while he said he's excited about becoming a Husky, he's still planning to visit other schools.
"I'm going to try and make it out to Pitt and Oregon State at some point this summer," Lewis said. "Oregon State was sorta my runner-up and Pitt is a program I have a lot of respect for, so I want to still check them out, but I'm happy with my decision and I'm planning to be a Husky."
Lewis said the Huskies and most of the other schools recruiting him like him at linebacker and that is where he expects to play after adding some size over the next 12 months.