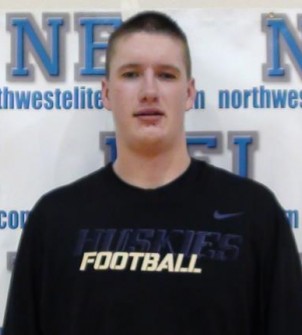 Last week, our own Jordan Johnson told you about the three big time 2015 offensive tackle prospects in the state of Washington – Henry Roberts, Calvin Throckmorton and Trey Adams.
Coincidently, days later, both Throckmorton and Adams picked up University of Washington offers at the Huskies' Rising Star camp. Well on Sunday, Adams wasted no time jumping on UW's offer and committed to the Purple and Gold.
Following his commitment, Adams attended the NW College Showcase at Interlake HS where we were able to talk to him about his decision. "My whole family was with me," Adams told NEI. "We went to a big meeting room and were talking and then I just said, 'What do I do? I'm ready to commit. I'm committing.' The whole place went crazy."
Adams, who checks in at 6-foot-7, 275-pounds is currently ranked as the No. 3 offensive line prospect in the state for the 2015 class and will be the anchor of a Wenatchee team that could contend for a state championship this fall.
The offer from Washington was the second in a one-week span, as Adams had also picked up an offer from WSU just days ago. But for Adams, the Husky offer was lifelong dream.
"I've always wanted to go to school at UW," Adams said. "I've always been UW. My grandpa played basketball at UW, my uncle went there. I've just always liked UW."