We can't say enough good things about all the participants in Sunday's Northwest College Showcase at Bellevue's Interlake HS. Dozens of players performed well, and should be proud of themselves for the level at which they competed. Several attendees representing the state of Washington had standout performances on the big stage that are worth recognizing. In alphabetical order, these individuals were "elite performers".
Offensive and Defensive Line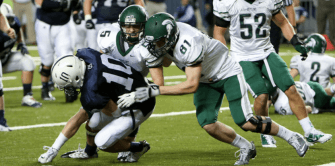 George Bluhm – Franklin Pierce HS: The 2015 lineman out of Tacoma was one of the surprises of the showcase. Bloom has size, and gained a lot of strength this offseason while developing a nasty streak on the field. He looked particularly impressive during one-on-ones.
Randin Crecelius – Cascade (Everett) HS: Crecelius entered the showcase on the heals of grabbing his first offer from Portland State, and proved it won't be his last. He flat out dominated one-on-ones, and drew praise from the college coaches in attendance. His size and athleticism are a rare combination in an offensive lineman, and he displays skill beyond his years.
Monike Failauga – Fife HS: The strong defensive lineman tips the scales at 300 pounds, but moves like he is 250. Failauga is best against the run, but managed to hold his own in the pass rush session and turn some heads.
Nick Foerstel – Tumwater HS: Foerstel isn't a jack of all trades, he's simply a master of one – the pass rush. His speed is a dangerous weapon and it showed. The 2014 prospect gave offensive linemen fits at almost every rep he took.
Nick Hensley – Glacier Peak HS: Hensley is a fast-rising prospect who was very impressive on Sunday. He plays tackle for Glacier Peak, but can also play guard and center, which is what he will probably play collegiately. He showed the ability to both pass and run block at a high level.
Reggie Long – Skyline HS: Long plays guard for the Spartans but worked exclusively at center for the showcase – which is where he bests projects at the next level. He has continued to improve this offseason and is one of the most consistent players in the state as he enters his senior season.
Evan Miksch – Lake Stevens HS: The 2014 DE totaled double-digit sacks last season, and showed Sunday that it wasn't a fluke. Miksch has a motor that doesn't quit, and has very deceptive speed for his size. He also has the ability to play on the offensive side of the ball, as well.
Alex Neale – Eastside Catholic HS: Neale is one of the top 2015 offensive linemen in the state, and he didn't disappoint on Sunday. Neale plays center for EC, but worked at guard during one-on-one drills, showing the ability to play any of the interior line positions.
Tate Razor – Bellevue Christian School: Quite possibly the breakout star of the showcase. The 2014 defensive end is a straight-up sack master. He was one of the top pass rushers in the state last season, and proved on Sunday that he's capable of playing with the big boys. Razor's stock went up big time.
Morgan Richey – Bellevue HS: Another player who defines consistency. The senior offensive linemen holds a host of scholarship offers, and was one of the more polished linemen in attendance. Richey doesn't often get to show how well he can pass block in Bellevue's Wing-T offense, but more than held his own in one-on-ones Sunday.
Cameron Saffle – Skyline HS: Get used to hearing this defensive end's name. Saffle will be one of the region's most heavily sought-after players in the 2015 recruiting class. His size, strength and speed left the coaches and media in attendance in awe. To top that off, his performance was after he already participated in the linebacker session and turned plenty of heads there as well.
Drew Springfield – Eastside Catholic HS: Springfield wrapped up an impressive offseason with a strong showing at the showcase. He plays tackle for EC, but will slide inside at the next level. Springfield continues to get better every time he comes to an event and is poised to have a big senior season.
Calvin Throckmorton – Newport HS: It's hard to believe how raw of a tackle prospect Throckmorton is. A day after picking up an offer from UW, Calvin was right back to work, and lived up to the hype. The 2015 OT will continue to improve and should be one of the state's top overall players by his senior year.
Korye Trejo – Tumwater HS: The T-Birds' senior DT continues to fly under the radar, but after a great showing Sunday it might not be for much longer. His background as a rugby player has benefited him on the football field, and he was a force during one-on-ones as a result.
Dee Angelo Viena – West Seattle HS: Along with Saffle and Razor, Vienna was one of the breakout stars of the linemen session. The powerful defensive tackler is also lightening-quick, and could not be blocked all day. Coaches and media in attendance were constantly heard asking "who is that guy?", after virtually every rep.
Josh Wright – Skyline HS: If somehow there was any doubt beforehand, on Sunday Wright proved he was for real. He is without question the state's most gifted edge-rusher. Wright showed he also has deceptive strength, electing to show a bullrush during the one-on-one session that he rarely utilizes. It should be only a matter of time before the senior snags his first offer.
Tight Ends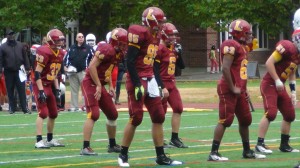 Henderson Belk – Kamiak HS: Belk proved he's a tight end who can block as well as he can catch. He looked good in blocking drills and continues his growth as one of the top tight end's in the state.
Zach Delucco – Tumwater HS: Delucco is an underrated prospect, and doesn't get a ton of chances in Tumwater's Wing-T offense, but moves well and looked great in SAQ drills. Could be in for a big year, as the T-Birds could look to throw a bit more this fall.
Nick Kiourkas – Shadle Park HS: Kiourkas plays WR for the Highlanders, but schematically he's essentially used as a TE, which is also where he best projects at the college level. As a result, Kiourkas has been getting more work in at camps as a TE, and it's paying off. He's got a big frame, and catches anything within reach like a magnet.
Bowe McKay – W.F. West: McKay turned in a solid day. He is another player transitioning to TE from WR. He's gifted as a route runner and able to get separation on most defenders.
Kyle Naron – Franklin Pierce HS: Naron was part of a large contingent of FP players who made the trip up to Interlake. He was a pleasant surprise in the TE group, showing great blocking and pass-catching ability.
Erik Rottsolk – Lakeside School: The top tight end in the 2015 class continues to develop. He showed improved speed, and improved blocking ability. He will be a big target over the next two seasons for Lakeside and remains one of the more intriguing prospects in the state.