LINE MVP'S
OVERALL LINE MVP – Randin Crecelius 6-5 290 Sr. Cascade WA
Oregon OL MVP – Jordon Haas 6-5 280 Sr. Springfield
Oregon DL MVP – Liam Talty 6-4 230 Sr. Sheldon
Oregon Underclassmen MVP – Massen Newton 6-1 265 So. Lakeridge
Washington OL MVP – Randin Crecelius 6-5 290 Sr. Cascade
Washington DL Co-MVP – Cameron Saffle 6-3 230 Jr. Skyline / Dee Angelow Vienna 6-1 290 Sr. West Seattle
Washington Underclassmen MVP – Cal Throckmorton 6-6 255 Jr. Newport
Co-Breakout Performers – George Bluhm 6-1 285 Jr. Franklin Pierce / Tate Razor 6-5 210 Sr. Bellevue Christian
Offensive and Defensive Line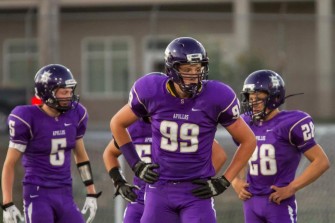 Josh Brown 6-6 245 Sr. Sunset (Offers: Portland St, Northern Colorado) – As much as we like Brown as a TE, he could end up being a D end at the next level. He is one of the most talented two way threats in the region and has worked as hard as anybody over the off season. We have nothing but good things to say about Josh.
Liam Talty 6-4 230 Sr. Sheldon (Offers: Air Force, Northern Colorado) – Talty could be the quickest kid off the ball in the Northwest, and will most likely add multiple offers before he is done. He beat the top O lineman off the ball all day and showed why he is one of Oregon's most impressive D ends. Other then Strahm he was the MVP of last year's state title game.
Brody Haehlen 6-4 250 Sr. Clackamas (Offers: Montana) – Brody did a good job at TE and then received a minor injury during the line portion of the day. Haehlen is one of OR's top two way threats, and has a stock that just continues to rise as he can play three or four different spots. As we have said time and time again, he's someone you want on your side.
Marqueese Royster 6-1 255 Sr. Lakeridge (COMMITTED: Portland St) – The kid out of Lake O isn't afraid to mix it up which is one of the things we like most about him. His ability to overpower and out maneuver bigger O lineman on a consistent basis speaks to his upside, as he has had elite coaching from a very young age.
Mike Miller 6-4 285 Jesuit Sr. – Did a good job Sunday and will have to lead the top ranked Crusaders line. Fundamentally Miller is sound, ranking as one of the top 5 lineman in the state. He will have to continue to work on his side to side quickness, and play lights out all year as the private school graduates 5 D1 kids up front kids.
Austin Phillips 6-3 270 Mt View Sr. – Projects as the state's top center for 2014. Did well, but was also tested against elite competition. Honorable mention all state a year ago, 4.1 student.. Made the trip from bend showing his dedication.
David Reese 6-7 270 Clackamas Sr. – Potential MVP candidate on the day. Reese showed athleticism at the tackle spot, and did a good job maintaining his blocks. With added size and time in the weight room, David is your ideal D1 offensive tackle. Oregon's #1 ranked OL.
Jordon Haas 6-5 280 Springfield Sr. – Haas attended our elite events in the winter, and really impressed over the weekend. Jordan is ranked one of the state's top 10 O lineman and helped his cause on Sunday. His hard work over the off season has paid off as he looked as good as we have ever seen him.
Noah Bagley 6-2 285 West Linn Sr. – Barton Football Academy O line coach Alex Linnenkohl says, "Noah has been the most impressive kid we have seen on the camp and combine tour all year". Bold statement from the former Oregon St Beaver and Chicago Bear. Bagley can play both ways, but projects as a guard.
Tanner Davies 6-3 295 Sheldon Sr. – The state's #2 ranked OL did a very good job, fresh off his MVP at the NFTC in Eugene. Davies is a big kid that can move and projects as a guard at the D1 level. He will lead the returning state champions up front.
Hunter Hermansen 6-2 215 North Medford Sr. – Give a lot of credit to the kid out of Southern Oregon who is one of the fastest athletes off the ball in the state. Hermansen goes both ways for the Black Tornado and will have to go off this year for them to compete.
David Sellers 6-5 225 Cascade Christian Sr. – Sellers will be a three year starter at the 3a school, and was one of the more impressive looking athletes in attendance. It was good for the small school talent to go against some of the NW's best lineman, putting things into perspective.
Riley Williams 6-0 235 Sr. South Medford – We have become a fan of Williams as he just loves the game and does a very good on the interior with his athleticism. He is also one of the state's best kickers.
Isaiah Molden 6-2 260 Sr. West Linn – Molden will be a returning starter for the Lions this season, and will be a kid that we are adding to our rankings board. Isaiah had a good weekend, showing that he can compete with anyone in the Northwest.
Massen Newton 6-1 255 So. Lakeridge – One of the most impressive kids on the day, as the Sophomore to be jumped at any chance to get a rep against top competition. Newton will be one of the better interior lineman in the state for the class of 2016 and showed why on Sunday.
JJ Banks 6-0 240 Sr. DL Marist – Banks was a part time starter last season and has continued to excel at our camps and combines over the last couple years. Look for him to be one of better D lineman in the Midwestern Conference.
Alex Betancourt 5-11 255 Sr. Sunset – Betencourt had a great day and really impressed on the defensive side of the ball. He was hurt last season, but has recovered nicely and was one of the more surprising kids in attendance on Sunday.
Tight Ends
Isaiah Hall 6-3 220 Sr. Horizon Christian – Isaiah looks the part and then some, and has created a buzz amongst colleges due to his upside. Still raw as he hasn't played a ton of football, but his work ethic has closed that gap quickly. Hall is a player and has a collegiate future.
Jacob Ridgeway 6-2 215 Sr. South Medford – Jacob has had a very impressive off season and looks like one of the top TE's in the SWC. He is the type of kid you can build around and someone that represents Medford well wherever he goes.