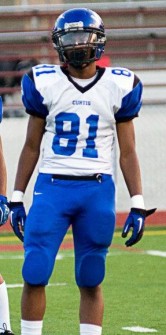 One of the top 2015 prospects to start popping up on recruiting radars over the past month has been Curtis WR/PR/KR Jayson Williams. He's built off of a solid sophomore season last fall and has been tearing it up on the camp circuit so far this summer.
"I love to get out and compete and to improve and I want to show coaches and scouts what I can do because I didn't get a lot of chances to make plays last season," Williams told Northwest Elite Index recently. "I love to go up against the best players and that's what I've been doing since our season ended. Just running routes, working on my strength and getting better every day has been my focus."
As a sophomore last season for a team that went 7-3, Williams totaled 15 receptions for over 300 yards and four touchdowns while also averaging 12 yards per punt return and 26 yards per kickoff return.
"I sorta did it all for us," Williams said. "It was fun just getting out there and helping my team when they needed me to step up, but this year I want to get a lot more reps, possibly start and to make even more plays to help my team to the playoffs and possibly a championship, but first things first. I gotta show the coaches I'm ready to do what they need me to do."
This summer, things have been pretty hectic for the athletic playmaker as he's taken part in camps all over the Northwest and he plans to focus on even more in the coming weeks.
"I've gone to the Portland State camp, Washington's Skills camp and finished off with the Northwest College Showcase," Williams said. "I've talked to a few schools, Wyoming, Washington, Oregon State, Boise State and Idaho and if I do well at camps I hope more start to show some interest."
We will have more on Williams as he gets closer to starting his junior season with the Vikings.