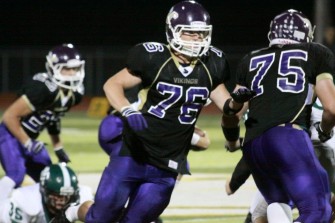 The list of dominant two-way linemen in Washington's 2014 class keeps getting longer and longer.
On Sunday at RDAF's NW College Showcase, we got to see yet another player who gets it done at a high level on both sides of the trenches, in Lake Stevens (Wash.) big man, Evan Miksch.
The 6-foot-3, 245-pounder was a 1st Team All-League performer last year on defense after tying the school record for sacks in a season, with 10. He also earned 2nd Team All-League honors in 2012 – his first season on the offensive line after converting from the tight end position.
Lake Stevens was 8-3 last year, and have high hopes for the season ahead. "On the field, our team goals are to win our division, and then host a playoff game," Miksch tells NEI. "And the ultimate goal is to take home the state championship."
Miksch, a team captain, says the Vikings have some goals they're focusing on off the field, as well. "As a team, we want to come together and make as many memories as possible," he says. "To crate those memories, we need to work together and give ourselves the best chance possible at winning."
Personally, Miksch his hoping to improve on last season's sack total and reach 15 this year. He also has hopes of earning All-State honors at defensive end, and All-Area honors at offensive tackle. After netting 80 tackles in 2012, he hopes for 100 this fall, and also wants to break the career-sack record at Lake Stevens, which stands at 17.
After seeing Miksch on Sunday, it would be foolish to doubt his ability to achieve those goals. If there was one thing that stood out about Evan, it was his "motor". He plays with a relentlessness that coaches love to see in defensive lineman.
The Vikings also feature a handful of other standout players. Returning All-Area linebacker CJ Lat is back as the "quarterback of the defense", as is All-League running back Austin Otis. Last year's quarterback Gavin O'Neil will be making the switch to wide receiver, and Jacob Eason will assume the reins under center for Lake Stevens.
Miksch is a player who should get some looks to play at the college level, and the level at which he gets those looks will depend on how his senior season goes. We wish Evan and his Vikings teammates luck this upcoming season.