We can't say enough good things about all the participants in Sunday's Northwest College Showcase at Bellevue's Interlake HS. Dozens of players performed well, and should be proud of themselves for the level at which they competed. Several attendees in the LB and RB group had standout performances on the big stage that are worth recognizing. In no particular order, these individuals were "elite performers".
Running Backs
OVERALL RB MVP – Myles Gaskin 5-10 190 Jr. O'Dea
Oregon RB MVP – Chase Morrison 5-10 170 Jr. Jesuit
Washington RB MVP – Conner Baumann 6-2 225 Sr. Newport
Oregon Underclassmen RB MVP – Elijah Molden 5-10 155 Fr. West Linn
Washington Underclassmen RB MVP – Salvon Ahmed 5-11 160 Fr. Juanita; Taylor Rapp 5-11 190 So. Sehome
RB Breakout Performer – Hasani Childs 5-9 165 Sr. Curtis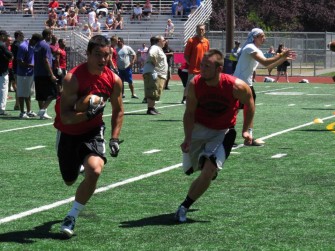 Conner Baumann Sr. Newport WA – (Offers: UTEP, Northern Colorado, Air Force, Navy) Just a very athletic kid with size. He's a rare breed of skill position player. Looked very good , while sitting with 4 D1 offers.
Chase Morrison Jr. Jesuit OR – One of the top ranked athletes state wide. Will be a Oregon player of the year favorite as a senior. Was very versatile against top competiton, D1 kid, MVP Type day.
Myles Gaskin Jr. O'Dea WA – One of the top junior backs in the state. Had one of the top performances of the entire showcase. D1 projected kid that looked as good as we have ever seen him.
Taylor Rapp So. Sehome WA– One of the best players in the region for 2016. Phenomenal overall talent. Projects as a safety, but will be one of the best backs in WA. Kids a player.
Salvon Ahmed Fr. Juanita WA – One of the top players in the country for the class of 2017; Will be one of the most recruited kids to ever come out of the region. Phenomenal quicks and side to side agility. Just an overall good kid.
Elijah Molden Fr. West Linn OR – As of right now the top player in the state of Oregon for the class of 2017. NFL genes with his father Alex being a former All-Pro. Much like Ahmed, has unique intangibles and god-given ability that can't be taught.
Teague James Sr. Graham Kapowsin WA – One of the top 10 ranked backs in the state. Could have a monster year as GK will be good, and James is coming off a big junior year. Looked very good over the weekend.
Brett Hildebrand Sr. McNary OR – Has done a great job all off season after going for over 1400 yards and double digit Tds as a junior. Will be one of the best in the CVC.
Jake Tumblin Sr. Coupeville WA – Undersized but plays like he is 6-2. Just super shifty and quick and will run with power. Very elusive due to size.
Daniel Sherrell Sr. Clackamas OR – People will not sleep on Sherrell this season, after he went for 2100 yards and 27 Tds last season. "Smiley" is only 5-9 but a baller.
Austin Hall Sr. Kamiak WA – One of the conference's leading rushers last season. Will be the go to guy for a Knights team that should have a good season.
Austin Otis Sr. Lake Stevens WA – Has done well at the last two events. Will be the featured back in 2013, football family.
Louie Germain Sr. West Linn OR – One of the more underrated kids in Oregon. Kids a player and had an outstanding showcase.
Cole Stephens Jr. Lakeside School WA – Day was cut short after a foot injury, but the speedster still made an impact. Extremely elusive with a motor that doesn't stop.
Bryce Garcia Sr. Meridian WA – Switched schools after sitting out last season due to the transfer rule. Talented kid
Devon Fortier Jr. Canby OR – Very talented 2015 kid, that is also an outstanding basketball player. Legit speed and one of the top athletes in the state for his class.
Hasani Childs Sr. Curtis WA – Big time breakout performance by Childs who showed he was one of the top players in attendance. Was injured last season, but has come back in a big way and will immediately jump up our rankings board when updated.
Nathan Beasley Sr. Camas WA – One of my favorite athletes in Washington. Co Conference Player of the year as a junior. Could very well go for 25+ Td's this season as he was dominant in 2012.
Daniel Ziegler Sr. Sehome WA – Will team with Rapp to form one of the best RB 1/2 punches in the state.
Jordan Abdullah Sr. Hazen WA – Big kid that can run. Will be the featured back in the Hazen system.
Devin Martinez Sr. Southridge OR – Potential 6a state rushing leader, for one of the state's top teams. You would never know how talented he was at first glance.
Austin Mason Jr. Liberty OR – Three sport varsity athlete as a sophomore. Team's leading rusher. Did well, kids sneaky good.
Dominic Shorter Sr. Canby OR – Will be Canby's go to guy out of the backfield, and should be one of the breakout players state wide. Has had an outstanding off season.
Hutu Spencer Sr. Reynolds OR – Just a very impressive looking athlete. Will be another breakout player of the year candidate in 2013 after coming back from injury.
Ashanti Kindle Sr. Emerald Ridge WA – Will be the featured back this season. Had a nice day, putting himself on the map. Could have a big year.
Colin Cossette Sr. Kennedy Catholic WA – Could very well go off this year in their running offense. He is big and powerful and could have 20+ carries a game and 20+ Tds on the season.
Malik Braxton Jr. Meadowdale WA – Super quick and talented athlete who has a chance to be one of the better skill kids in the state for 2015.
Christian Cummings Sr. Tumwater WA – Cummings had a phenomenal day and really showed that he could be one of the better backs in the state. Will play for 2A state titles favorite.
Nick Loftin Sr. Stadium WA – The school had a tough 2012 season and Loftin will have to lead the turnaround; Looked good on Sunday.
Parker Bull So. Aloha OR – One of the top 2016 athletes in Oregon. Can play multiple spots on the field, suiting up as a freshman and being respected by a talented group of seniors.
Daimoni DeLaVergne Sr. Franklin Pierce WA – One of the breakout performers of the day. Had multiple impressive catches, and will be a part of a much improved FP team this fall.
Linebackers
OVERALL LB MVP – Ryan Nall 6-3 235 Sr. Central Catholic
Oregon LB MVP – Sam Bodine 6-2 220 Sr. Canby
Washington LB MVP – Jack Flor 6-1 215 Sr. ODea
LB Underclassmen MVP – Joel Dublanko 6-3 215 So. Aberdeen
LB Breakout Performers – Stuart Gillin 6-2 215 Sr. Walla Walla; Max Wilson 6-1 205 Sr. (RB/LB) Silverton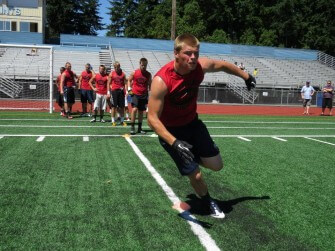 Ryan Nall Sr. Central Catholic OR – (Offers: Oregon St, Wyoming, Montana, Portland St, N.Colorado,) – Will end up being one of the more recruited backers on the west coast. Kid is super legit and has a unique combination of size and speed.
Sam Bodine Sr. Canby OR – (Offers: Portland St) – One of the region's top backers, who has an upside that won't quit. Bodine looked good like usual, and is a kid that could have a plethora of different offers. 1st team all league as a junior.
Joel Dubklano So. Aberdeen WA (Offers: Mississippi St, Montana, Akron) – One of the country's top LBs for the class of 2016. Could have 40+ offers before all is said and done. If he continues to grow he could very well be the next elite OLB/DE Hybrid.
Cy Sirmon Jr. Wenatchee WA – One of the top LB's in the state for the class of 2015. Has made insane jumps with his testing working with elite trainer Colan Sewell. Football family, NFL genes.. Will be a Conference Defensive POY candidate.
Chase Marshall Sr. Lakeridge OR – Has had a phenomenal off season thus far after winning a state lacrosse title. Projects as a kid that can play 3 or 4 different spots. Tests very well for a big athlete.
Nate Lewis Sr, Arlington WA – One of Arlington's all time best defensive players. Kid looks the part and then some. Ranks as one of the top linebackers in the state.
Stuart Gillin Sr. Walla Walla WA – Another kid that had a monster day and will jump up the rankings board when updated. Tests very well and has legit size. Originally from Texas.
Gianni Carbone Sr. Skyview WA – Carbone ranks as one of the state's top three backers, after going somewhat under the radar as a junior. Physical LB, that comes off the ball as hard as any athlete in the state.
Jack Flor Sr. O'Dea WA – Has a stock that continues to rise as he is on the D1 bubble with multiple schools. Very talented kid that tests well and has D1 genes. One of the best players at the showcase.
Peyton Dole Sr. Eagle Point OR – Big talented OLB type that has helped himself a great deal this off season. Will be a three year all league starter and has the potential to be one of the top players in the Midwestern Conference.
Mitch Kekel Sr. Westview OR – All league kid as a sophomore in the state's toughest conference, before injury negated his junior season. Is now back and looking healthy.
Gabe Stone Sr. West Albany OR – Was a second team all league kid as a sophomore and will be three year all league starter. Didn't get a chance to see, but is one of the state's best backers at the 5a level.
Brad Hansen Sr. Camas WA – 1st Team All-League player that made the transfer from Mt. View to Camas. Super intelligent backer.
Tariq Muhammad Sr. Newport WA – Had a very good day and is a somewhat under the radar athlete, after having a very impressive junior year. Jumping up the rankings board.
Caden Waggoner Sr. Olympia WA – Will be a featured member of what should be a talented Olympia team in 2012. Overall had a good day.
Max Wilson Sr. Silverton OR – Had one of the better days of anyone at the showcase. Will be the featured running back for the 5a State title contender. Not a lot of people know how good this kid is.
Marcus McGovern Sr. Sheldon OR – Started on the O line, and was a back up at LB on a loaded (14-0) state championship squad. Will be one of the surprise backers state wide. 4.0 student
Ross Martin Sr. Wenatchee WA – Has done a good job at our camps and combines and will be a key member on what could be one of Wenatchee's best teams ever.
Austin Gorski Sr. Sandy OR – Started both ways last season.. good size kid that projects well with continued progression.
Cale Lindsay Fr. Lakes WA – Talented freshman with size that could be one of the more talented athletes in the state for his class.
Jake Miles Sr. Jackson WA – Returning all league starter, that has done well at camps. Will be a leader for what should be a very talented Jackson team.
Jace Johns Sr. Mt View OR – Will be an Intermountain Conference Defensive POY Candidate. Has good length and a high ceiling, projecting as an outside backer.
Taariq Vanegas Jr. Seattle Prep WA – Will have a chance to shine this season. Taariq is a young Jr and will play this season at just 15 years old. Also a quality lacrosse player.
Brett Carter Sr. Franklin Pierce WA – Another very talented kid that has legit size, but missed last season with an injury. Has some catching up to do due to missed time but can play.
Nick Dionas Sr. Bellarmine Prep WA – A kid not a lot of people know about. Could have a big year as part of the B Prep D.
Matt Craig Sr. Silverton OR – One of the fastest rising backers in the NW. Not the biggest kid on the field, but just a gamer. 1st team all league junior on state's leading defense.
Trey Jarvis Sr. Standley Lake CO – Made the trip from Colorado. Talented kid with size. Showed outstanding dedication getting out to the event, helping himself gain some exposure.
Mac McLachlan Sr. Edmonds-Woodway WA – Really like this kid. Was a 1st team all league backer as a sophomore and fly's to the ball almost as well as anyone. Reads well and looked good Sunday.
Grant Williams Jr. North Thurston WA – Converted lineman that could be one of the better LB's in Washington. Right now he is a 240 pound MLB that moves well for a kid his size, but will need to continue to work on speed.
Braiden Beckman Jr. Kentridge WA – One of the better 2015 backers in Washington; MVP'd our previous camp/combine. Just continues to get better and has size.
Brad Roland Jr. Woodinville WA – Talented young backer. Not the biggest kid in the world, but a player.