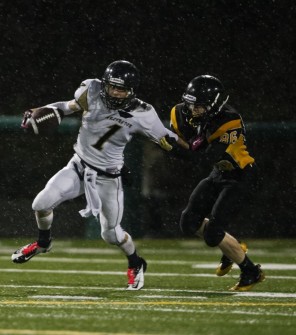 When you think about the Arlington (Wash.) duo of linebacker Nate Lewis and wide receiver Max Gray, two words come to mind – "never satisfied".
From a team perspective, the pair embodies the attitude of the Arlington program, a program not satisfied with last season's first-round playoff exit. The Eagles are looking to build on that success of last year and make a run at a Wesco North title this fall.
"Our team adopted the motto this year of 'climb the mountain'," Lewis tells NEI. "We are approaching all of our goals seriously and are completely dedicated."
Gray echoes that sentiment. "As a team, we are going for a Wesco championship and state. We aren't working this hard to settle for anything less," he says.
See what we mean, never satisfied.
From an individual standpoint, both humbly admit they've got a little something to prove as well.
The 6-foot, 225-pound Lewis had a successful season last fall from his linebacker spot, but a midseason injury caused him to miss three games, two of which were in league play, preventing him from any serious All-Wesco consideration.
"I want to work for an all-league honor and potentially more if I can earn it," Lewis says. "The sky is the limit and I am focusing on being the best player I know I can be."
He has definitely taken steps in the right direction, making impressive gains in the weight room and on the camp circuit – including taking home MVP honors at both the Issaquah and Bellevue Barton Football Academy combines.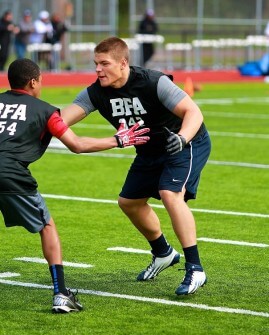 Gray, who is 5-foot-11, 170-pounds is in a similar situation, too. He missed his sophomore season with injury and had a solid junior year, but is looking to finish his high school career as one of the best wideouts in the state, although he isn't looking for accolades to validate it.
"I'm gonna work to inspire my teammates and try to be the best I can be," Gray says. "I'm not playing football for the personal awards, but if that's what comes with what I hope to do on the field this year, then that's great."
Gray may not be playing for awards, but it hasn't stopped him from earning them this offseason. He has taken home MVP honors at several camps this summer, including the recent NW College Showcase held in Bellevue.
Both Lewis and Gray have had success as multi-sport athletes, as well. Lewis was a member of Arlington's basketball team that finished 5th in 4A in 2012. While Gray has emerged as a top track athlete, running 49.6 seconds in the 400 meters, and 39.87 seconds in the 300m hurdles – an event in which he qualified for State in this year.
On the recruiting front, both have been starting to gain interest from FCS programs, including Portland State for Lewis and Idaho State for Gray. A big senior season for both players should draw additional interest from other schools.
But again, for the pair, it's all about having a special senior season at Arlington. "It's all about being a family and having fun," Gray says. "Winning is fun, but so is the work we put in together."
"Everyday is important and we just have to take it very seriously getting in as much work as we possibly can to improve every day," Lewis adds.