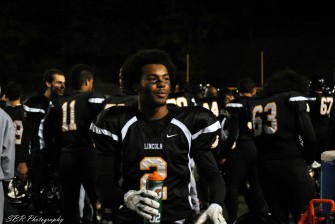 One of the top players at the NW College Showcase was DB Dehonta Hayes (5-11 175 Jr.) of Tacoma's Lincoln High School.
Hayes comes back ranked maybe the top junior DB in the state, along with Marysville Pilchuck's Austin Joyner and Juanita's Terin Adams. He earned MVP DB honors for the state of Washington at the event.
Dehonta is coming off a sophomore year where he had a state leading 7 INTs, which makes you wonder if he will ever get the ball thrown to his side over the next two seasons. Hayes says, "Personally I just want to improve as a student and an overall football player… My goal is 11 INTs this season, where last year I had 7."
He is a team guy first and plays for one of the most respected players and coaches to ever come out of the Northwest in Jon Kitna. Coach Kitna's knowledge and Dehonta's raw capabilities are a lethal combo moving forward. He is an unquestioned D1 defensive back and will have a plethora of resources at the school.
"Playing for Coach Kitna is great, it allows for me to learn from someone that has played at all levels and knows what he is talking about." He continued, "Coach is constantly pressuring us to be the best we can be on and off the field, which is why we respect him so much."
Lincoln went (5-5) last season, losing in the preliminary round of the playoffs to Bellevue. The Abes return some of the state's top underclassmen, making the upcoming season that much more intriguing.
Hayes is one of three elite juniors to be on Lincoln's roster, with Jusstis Warren (6-3 215 LB/ATH), 52 tackles/7.0 tpg/2 sacks and BJ Hawthorne (5-11 200 LB), 87 tackles/8.7 tpg/1 sack coming back as well. You will see all three of these kids listed towards the top of the charts when the new rankings are released.
Referencing his other teammates Dehonta says, "My brothers Kashawn Johnson (6-0 175 Sr. WR) and Tayvon Murray (5-7 170 Sr. DB/ATH) have elite football skills and bring it every time they come to the field."
You can also expect J'Maka Love (6-0 190 Sr. ATH) to be a big time contributor. Last year at QB he threw for 1,797 yards and 25 Tds, while rushing for 445 yards and 5 scores last season. His versatility may be shown this year as the Abes welcome sophomore to be Jordan Kitna (6-0 175 QB), Jon's son. Jordan looks to be one of the top signal-callers in the 2016 class after a good showing at the Skyline 7-on-7s.
Referencing the event last weekend Dehonta says, "I thought the Showcase was a really good experience and a good way for me to get exposed to all of the colleges that were there." The schools felt the same way about him as he will be one of the more recruited athletes in the region for the class of 2015.