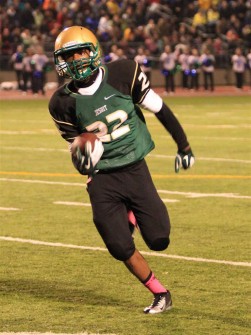 Get used to the name Chase Morrison (5-10 173 Jr. RB/CB) as the Jesuit standout will be considered one of the top players in Oregon this season.
Morrison MVP'd the premier event of the year in Bellevue at the RDAF College Showcase last weekend. It was great to see the speedster do his thing, as Chase is hands down one of the most versatile athletes in the region. He was a 2nd team all league kid on the defensive side of the ball, before filling in for all-everything back AJ Glass when he went down with an injury.
Both Chase and nationally ranked-talent Joey Alfieri ran all over everybody when given the chance last season, and they return this year and look to do more of the same.
The Crusaders graduate one of the top lines in Oregon history; Doug Brenner (6-3 285) Oregon, Andrew Kirkland (6-5 300) Washington, Max Rich (6-7 315) Harvard, and Ryan Brown (6-7 275) Portland St. That said Morrison is excited about his guys coming back. He says, " Mike Miller, Charlie Landgraf, and David Brugato all do a really good job and will help us a great deal up front."
Chase is equally talented on both sides of the ball and projects as a slot/corner at the college level, but he would like to stay at the running back position if possible. Its still very early and he will have plenty of time to add size. Watching his film you see that he has unique god-given ability and is a legit D1 kid. One of the best players in the country, and current teammate, Henry Mondeaux (6-5 245 TE/DE) says, "As good as he is, Chase still works as hard as anybody and is someone we can always count on."
Jesuit will most likely come in as our Co-No. 1 ranked team state wide at the 6A level along with Southridge. The Skyhawks have beaten them the last two seasons, so there will be no love lost when they play this year.
Morrison is a track and basketball kid, but football remains his first priority. We are excited for the two way threat out of Tualatin moving forward and we look forward to following his progress in the coming season.